Easy-to-use AKTAKOM APS-1503 power supply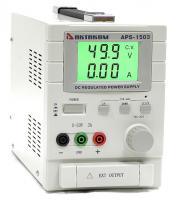 02/03/2020
AKTAKOM APS-1503 DC power supply is used to supply radio equipment with stabilized voltage or current when operating in debugging process, repair and laboratory research.
Schematically APS-1503 is designed according to a linear stabilization scheme and it is structurally assembled on SMD components. This design provides easy adjustment and operation, high stability of output parameters, low level of ripple and noise. Moreover SMD components use also significantly reduces the dimensions of the device.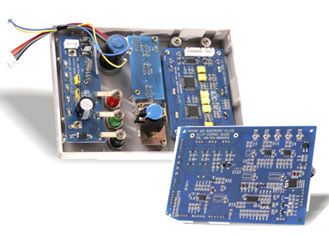 To display information AKTAKOM APS-1503 uses a high-definition LCD with backlight (green or yellow color can be chosen) displaying current and voltage simultaneously as well as current and voltage stabilization modes.
Another interesting feature of APS-1503 is push-button (digital) current reference control. This allows user to set the required current value more quickly comparing to other models with a regulator.
To reduce the voltage drop effect in the test leads APS-1503 power supply has terminals on its front panel allowing to use a four-wire connection.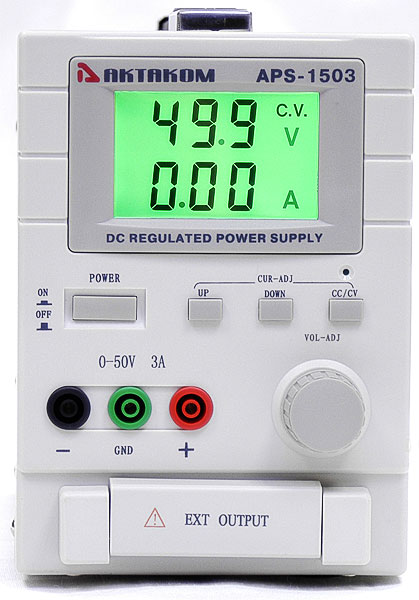 Among other features:
Number of channels: 1
Output: 0-50V at 0-3A
Output voltage accuracy: ±(1% + 200 mV)
Output current accuracy: ±(1% + 20 mA)
Ripple and Noise: 2 mV
Utilizing SMD technology
Automatic conversion of stable voltage and current
High accuracy voltage regulation
Step-type electric current adjustment
Dimensions: 5.1 x 7.5 x 10.6 in / 130 x 190 x 270 mm
Weight: 12.35 lb / 5.6 kg
Check AKTAKOM APS-1503 page for other details.
---
Related Information:
Deals - Special offers
Design. Engineering. Value. Interest. Creativity. Encyclopedia.