AKTAKOM ATE-9508 multipurpose tester. 4 professional instruments in 1!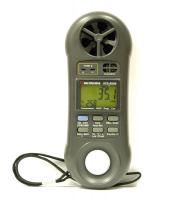 06/18/2018
If your work requires the use of anemometer, hygrometer, thermometer and light meter you may purchase just 1 device combining them all. This model is AKTAKOM ATE-9508 4-in-1 multipurpose tester and it can be used to measure airflow speed, humidity, temperature and illumination level.
The necessary function is easily selected with a single button. Right after required mode selection you may start the operation.
Using AKTAKOM ATE-9508 multipurpose device you may measure the following values:
airflow speed: 0.4...30 m/s
humidity: 10...95%
illumination: 0...20000 lux
temperature: -132...1300°C / -205.6...2372°F
Temperature is measured with a removable thermocouple (K type). All of these functions are available in a very compact and ergonomic device weighing 5.6 oz only.
Among other features:
being lightweight and compact it can be held in one hand
a special photo-diode and a light filter provides color correction and spectrum
capable of displaying two measured values simultaneously
high precision thin-film capacitance humidity sensor with fast response to the humidity variety
memorizes Max/Min values with recall
°C/°F selectable by pressing button on the front panel
Data hold
For more details check the page of AKTAKOM ATE-9508.
---
Related Information:
Industry news
Deals - Special offers
Design. Engineering. Value. Interest. Creativity. Encyclopedia.