Looking for a holiday gift? We are ready to help!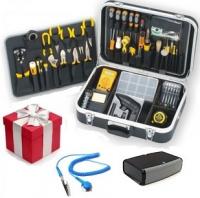 12/04/2017
This holiday season don't forget a gift for the engineer, hobbyist or the home master repairmen. Our Online Store is ready to share a great deal of ideas, a wide range of test and soldering equipment will make any task easier, faster and more accurate.
For those who are looking for a good soldering station there are many variants of soldering and desoldering models available. Our catalog includes also multifunctional stations combining both types in one.
Laboratory manager would definitely appreciate if you chose a gift out of our laboratory equipment with ESD function for him. Variable accessories and even furniture is available for you.
We are sure that hobbyists will also find our product range interesting. Housings and enclosures to make your own device, different instruments and tools that could be used therefore. If you are looking for a good and handy gift our Store will help you.
And finally get a really unique gift – antique voltmeter which is 100 years old!
Check our Online Store, download a full-ranged catalog or just call our consultants to discuss a perfect gift useful for any situation. 786 332 4773.