New 3-channel Aktakom power supply in our Online store!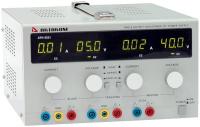 09/26/2016
Power supplies that are offered in our Catalogue have different number of channels. And since the range of models is quite wide you may easily choose the right one that will completely meet all of your requirements.
Thus our Online store includes now a new model of Aktakom power supply with 3 channels. ATH-3243 high-precision DC power supply outputs smoothly adjustable stabilized DC voltage and stabilized current and has three channels: two of them are adjustable and the other one is fixed.
The two adjustable outputs can also be selected for constant voltage or constant current, designed in high stability and performance circuit. In constant voltage state the output voltage can be arbitrarily adjusted from 0V on in the nominal range; and in the state of constant current the output current can be adjustable from 0A on in the nominal range. The two outputs can be connected in parallel or in series.
The one fixed way outputs 5 V voltage. Due to the single chip integrated regulator this output has good stability and ripple factor and it has reliable overload protection to protect ATH-3243 against being damaged whenever overload or short circuit.
Visit the page of Aktakom ATH-3243 3-channel DC power supply for more details.
---
Related Information:
Deals - Special offers
Design. Engineering. Value. Interest. Creativity. Encyclopedia.