New Aktakom ATH-1231 DC Power Supply. High quality for low cost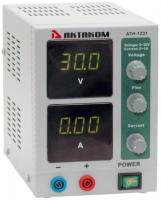 07/11/2016
Our Catalogue enumerates variable power supply models suitable for different types of application. Herewith we introduce a new model of DC power supply which price you will find rather attractive.
New Aktakom ATH-1231 High-precision DC regulated power supply can be widely used in debugging process, repair and laboratory research.
ATH-1231 is equipped with 2 3-digit LED displays, short circuit protection and also the stabilization mode (for current and voltage). Among the other specifications of Aktakom ATH-1231 power supply:
Number of channels: 1
Output voltage: 0...30 V
Output current: 0...1 A
Inaccuracy of output voltage setting: 0.2% + 2 digits
Inaccuracy of output current setting: 1% + 2 digits
Voltage ripple and noise, RMS (typical): 1mV
The unit structure is rather compact, this allows ATH-1231 to occupy a minimal space and organize a high performance work area.
Due to its price, which is $129.00, this model is perfect for colleges and educational institutions.
Find more information on the page of Aktakom ATH-1231 DC power supply.
---
Related Information:
Deals - Special offers
Design. Engineering. Value. Interest. Creativity. Encyclopedia.