What temperature range should be used for desoldering process when operating ASE-4313 ESD-Safe Temperature Controlled Digital Soldering and SMD Rework Station?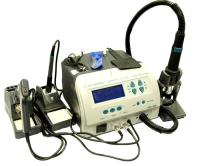 09/05/2016
AKTAKOM ASE-4313 Temperature Controlled Soldering and SMD Rework Station is designed for a wide range of repair processes and combines 3 devices in 1:
mounting soldering station (60 W, 392 ...896°F / 200 ... 480°C)
vacuum desoldering station (90 W, 392 ...896°F / 200 ... 480°C)
hot air gun (1000 W, 212...932°F /100 ... 500°C, 120 l/min) for QFP chips, SOP, PLCC, SOJ and BGA (using interchangeable nozzles).
AKTAKOM ASE-4313 rework station is equipped with a powerful built-in vacuum pump with the capacity of up to 150 l/min. It is perfect for the work with multilayer printed circuits. The hot air gun with the respectively selected nozzle effectively transmits the heat to the soldering area and therefore makes the flux melt at a comparatively low operating temperature. At the same time the melted flux is completely removed out of the smallest PCB holes. This happens due to the correct difference between pressure and pumping speed which does not allow the flux to cool down and get solid.
One of the most frequently asked questions concerns the temperature range that should be used for desoldering process when operating ASE-4313.
Here is the answer: if you choose the desoldering iron (TOOL2) specify the PCB temperature in accordance with the following rules:
280…350 °C for one-sided PCB;
320…400 °C for PCB with through holes;
350…450 °C for multilayer PCB.
Answers for other frequently asked questions, controls of this model and detailed specifications can be found on page of AKTAKOM ASE-4313.
---
Related Information:
Industry news
Deals - Special offers
Design. Engineering. Value. Interest. Creativity. Encyclopedia.