Low cost power supply for your measurement tasks – Aktakom ATH-1338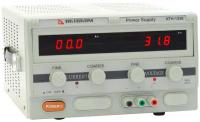 02/06/2017
If you are looking for a high precision DC power supply we are suggesting you to take a look at AKTAKOM model that is available for you in our Online store.
AKTAKOM ATH-1338 (30V, 20A. 1 channel) is widely used in debugging process, repair and laboratory research. ATH-1338 outputs smoothly adjustable stabilized DC voltage and stabilized current. Moreover it's a perfect power supply for science investigation, college, factory, electronic appliance maintenance and etc.
ATH-1338 is a high precision DC regulated power supply with its continuously adjustable voltage output. Constant voltage and constant current are switchable automatically.
The unit structure is rather compact, ATH-1338 occupies a very small working area. Other features of this power supply include high performance, short circuit protection availability, modern design etc.
ATH-1338 has a digital indication, all information is displayed on 2 3-digit LED displays.
Find more features and capabilities here.
---
Related Information:
Deals - Special offers
Design. Engineering. Value. Interest. Creativity. Encyclopedia.