AKTAKOM ATH-3333 DC power supply is available from our stock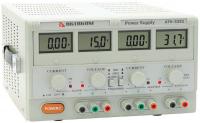 07/09/2018
Low-cost AKTAKOM ATH-3333 power supply with digital indication is designed for the use in debugging process, repair or in laboratory research.
ATH-3333 power supply outputs smoothly regulated stabilized DC Voltage up to 30V and stabilized current up to 3A.
Among other features of this power supply there is a short circuit protection available and stabilization mode (current, voltage). ATH-3333 is equipped with 4 3-digit LCDs with clear indication.
Below there are specifications available in ATH-3333 model:
Number of channels: 3
Output voltage (channel 1 and 2): 0...30 V x 2
Output current (channel 1 and 2): 0…3 A x 2
Output voltage/current (channel 3): 5V / 3A
Inaccuracy of output voltage setting: 1% + 2 digits
Inaccuracy of output current setting: 2% + 2 digits
Voltage ripple and noise, RMS (typical): 1mV
Current ripple and noise, RMS (typical): 2mA
Dimensions: 14.4 x 6.5 x 10.4 in / 365 x 164 x 265 mm;
Weight: 22.1 lb / 10.5 kg.
ATH-3333 is supplied from AC network of 110/220V.
Find more details on the page of AKTAKOM ATH-3333.
---
Related Information:
Deals - Special offers
Design. Engineering. Value. Interest. Creativity. Encyclopedia.