EDU Tools Package Aktakom. Buy and save your money!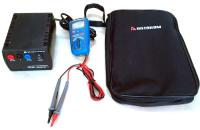 10/12/2015
Designed specifically for education EDU Tools Package Aktakom AA-17 is an inexpensive set of «Easy to use» kind. EDU Tools Package Aktakom AA-17 is ideal for education, laboratory, factory, electronic appliance, maintenance etc.
The set includes:
AKTAKOM APS-1015 model is a low power switching DC power supply with 2 fixed output voltages and over current protection.The unit has compact structure, double insulation, safety and easy operation, wide voltage import, good performance, novel appearance and etc.
The pocket model AKTAKOM AMM-1048 has double-molded plastic housing and large high contrast 4000 counts LCD display. It's CAT III 1000V safety designed. Capable of non-contact voltage detection, equipped with a flashlight.
AHA-2504 practical and convenient tool bag for carrying and storing tools, small instruments, and documentation
The price for Aktakom AA-17 is $99.00 only!
---
Related Information:
Industry news
Deals - Special offers
Design. Engineering. Value. Interest. Creativity. Encyclopedia.