New! AKTAKOM AEL-8320 Programmable Electronic Load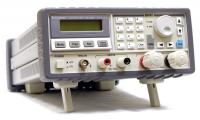 08/03/2015
Our Online store includes a new programmable power supply model – AKTAKOM AEL-8320.
AKTAKOM AEL-8320 programmable electronic load is designed to operate as a load when testing, setting and adjusting power units, amplifiers, sound-reproducing equipment and other radio assembly equipment with supply voltage of up to 80 V, up to 30 A load current, up to 250 W power consumption.
The main feature of this model are as follows:
LCD with backlight;
High resolution of ADC – 24 bits, DAC – 17 bits;
Load operation modes: load voltage stabilization, load current stabilization, resistance stabilization, power stabilization (limitation);
Discrete setting of input parameters (with the keyboard typing directly or in step-by-step mode);
Auto calibration;
Protection types: overvoltage, overcurrent, overpower, overheat, wrong polarity;
Batteries test;
Dynamic testing support with rising and falling edge setting;
External triggering support;
Short circuit mode;
On a list operation;
Control over RS-232 by SCPI commands;
LabView support.
The detailed information can be checked here.
---
Related Information:
Deals - Special offers
Design. Engineering. Value. Interest. Creativity. Encyclopedia.