New antistatic tools from AKTAKOM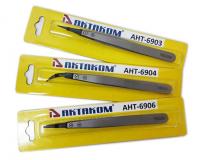 02/02/2015
Our section "ESD Tools, Equipment and accessories" includes now new tools namely new pincers with antistatic effect. These antistatic pincers are made of high-quality stainless steel and their tips design will help you operating with static sensitive components in hard-to-reach places.
For your convenience we offer several models so you could chose the right one. To see the difference between them click AKTAKOM model: AHT-6903 Straight antistatic pincer, AHT-6904 Sickle-shaped antistatic pincer, AHT-6906 Straight antistatic pincer.
---
Related Information:
Industry news
Deals - Special offers
Design. Engineering. Value. Interest. Creativity. Encyclopedia.