New AKTAKOM ATE-1080 Anemometer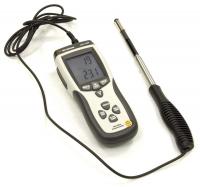 07/18/2014
At the moment there is a new AKTAKOM anemometer model available in our Catalogue.
AKTAKOM ATE-1080 Anemometer can be used for environmental testing and in application to air conveyors, flow hoods, clean rooms, air velocity, air balancing, fans/motors/blowers, furnace velocity, refrigerated case, paint spray booths.
You may see the detailed specifications on AKTAKOM ATE-1080 web page.
---
Related Information:
Industry news