AKTAKOM ATE-1080 Anemometer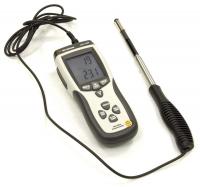 04/20/2020
AKTAKOM ATE-1080 Anemometer can be used for environmental testing and in application to air conveyors, flow hoods, clean rooms, air velocity, air balancing, fans/motors/blowers, furnace velocity, refrigerated case, paint spray booths.
The main features of this model are as follows:
Thermal anemometer, available for very low air velocity measurement.
Slim probe, ideal for grilles & diffusers.
Combination of hot wire and standard thermistor, deliver rapid and precise measurements even at low air velocity.
Records Maximum and Minimum readings with recall.
Microprocessor circuit assures maximum possible accuracy, provides special functions and features.
Super large LCD with dual function meter's display, read the air velocity & temp, at the same time.
Records Maximum and Minimum readings with recall.
Data Hold.
Power supply by 9V battery.
The portable anemometer provides fast, accurate readings, with digital readability and the convenience of a remote probe separately.
Multi-functions for air flow measurement: m/s, km/h, ft/min, MPH, Knots.
Build in temperature °C, °F measurement.
Thermistor sensor for Temp, measurement, fast response time.
Used the durable, long-lasting components, including a strong, light weight ABS-plastic housing case.
You may see the detailed specifications on AKTAKOM ATE-1080 web page.
---
Related Information:
Industry news
Deals - Special offers
Design. Engineering. Value. Interest. Creativity. Encyclopedia.