AKTAKOM ATE-2530 Infrared Thermometer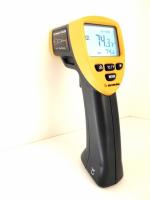 11/02/2020
AKTAKOM ATE-2530 Infrared Thermometer detects infrared energy emitted by objects. The instrument focuses energy through its lens, changing the temperature of a special material that creates an electrical signal. A microcomputer processes this signal and displays the output on the thermometer. The laser is used only for sighting the instrument and has no other effect on temperature measurement.
Main specifications:
LCD Display: 2-temperature, 4 digits
Distance to Spot Ratio: 12:1
Emissivity: Fixed at 0.95
Spectral Response: 8-14μm
Measurement Range: -20°C ~ 537°C / -4°F ~ 999°F
Alarming temperature range (ATE-2533): 30°C ~ 535 °C / 86°F ~ 995°F
Accuracy: -20°C ~ 50°C: ±2.5°C 50°C ~ 537°C ± (reading×1%+1°C)
Response Time: 1.5 seconds
Laser Power: Less than 1 mW
Auto-off: After 10 seconds
Backlight: White
Find more details about the advantages of this device on ATE-2530 web page.
---
Related Information:
Industry news
Deals - Special offers
Design. Engineering. Value. Interest. Creativity. Encyclopedia.