AKTAKOM Net Configurator is designed to record and read the network settings data of AKTAKOM Universal Lab devices (supporting AULNet protocol). The application provides simple and convenient user interface to work with settings, they can be recorded into the file and read afterwards. User may print the device network settings as well.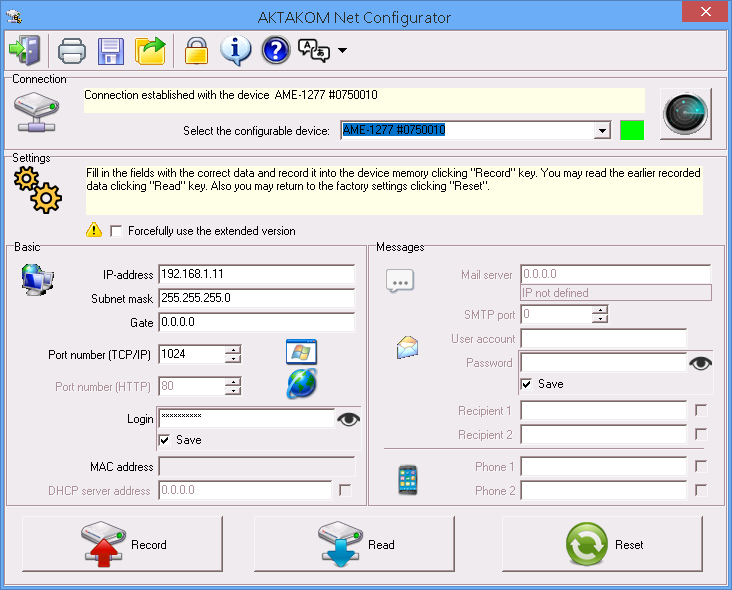 The main program window contains several blocks and buttons:
"Connection" block contains elements for searching and connecting to the configurable device.
"Settings" block contains the fields that specify the basic network settings of the device and the settings of its messages.
Basic settings
IP-address, Subnet mask, Gateway – Device network credentials.
Port number (TCP/IP) – Specify the port number required to establish the connection of the device with the controlling software.
Port number (HTTP) - Specify the port number required to connect to the device with Internet browser.
Login - The name specified in the network connection settings of the controlling software.
MAC Address - MAC address of the device network card.
DHCP server address - Specified if it's necessary to receive addresses automatically.
Messages
Output message server - Specify the server for sending messages by e-mail.
SMTP Port - Port of the mail server for sending messages via the SMTP protocol.
Recipient 1-2 – e-mail addresses for messages.
Phone 1-2 - phone numbers for SMS messages.
Notice:
In "Output message server" field it's possible to enter the server name, e.g. "smtp.mail.ru". If the computer is connected to the Internet the application will identify the server address on its own. But if there is no Internet connection it's necessary to enter the address directly into the field but not the server name, for example: "217.69.139.160".

"Read" key reads the settings data from the connected device and displays them in the settings block fields.

"Record" key sends the entered settings data to the device memory.

"Reset" key returns the contents of the settings block fields to the default values.