Check User manual for AKTAKOM APS-3103L power supply before purchasing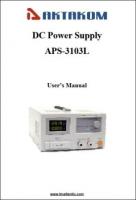 02/28/2020
To make AKTAKOM APS-3103L power supply operation more convenient for you we have added its User manual to our web site. Read or download the pdf-file for further use.
AKTAKOM APS-3103L is a programmable power supply with adjustable current limit. There is a single channel, output regulated voltage of 0…120 V, output current of 0…3 A. This power supply model can be controlled both from the front panel and remotely via USB or LAN.
Check more details about APS-3103L power supply by clicking here.