New articles in our online Encyclopedia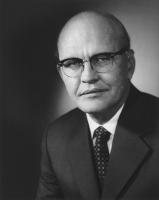 03/03/2015
When we speak about today science we should remember whose knowledge and force have contributed to its development. In our Design Engineer Valued Creative Encyclopedia there is special section named "Persona" where you may read about well-known scientists and academics.
At the moment there have been biographies of 2 American scientists added.
Read about Jack St. Clair Kilby (in the picture) and Howard Hathaway Aiken in "Persona" section. Follow the links to get more detailed information.