"Events" section of our web site has been updated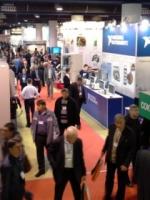 12/19/2013
"Events" section of our web site keeps on increasing and adding new exhibitions and industry events.
Thus in a couple of weeks the International Consumer Electronics Show (CES) – The Global Stage for Innovation – will open its doors.
Right after this great show you will have a chance to attend IEEE Consumer Communications and Networking Conference (CCNC 2014).
Dates, venues and further details can be found in our "Events" section. See what other events are coming soon.