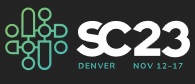 The international conference for high performance computing, networking, storage, and analysis. The SC Conference brings together thousands of attendees from the international high performance computing community. It's a gathering of scientists, engineers, researchers, educators, programmers, system administrators, and developers that is unequaled in the world.
Program:
Each year, SC provides the leading technical program for professionals and students in the HPC community, as measured by impact, at the highest academic and professional standards.
The Program is designed to share best practices in areas such as: algorithms; applications; architectures and networks; clouds and distributed computing; data analytics, visualization, and storage; machine learning and HPC; performance; programming systems; system software; and state of the practice in large-scale deployment and integration.
When: Sunday–Friday, November 12–17, 2023
Exhibits:
Discover the latest technologies, products, and services from cutting-edge innovators joining us from around the world. Here's your opportunity to meet and interact with industry, research organizations, startups, and universities all under one roof.
When: Tuesday–Thursday, November 14–16, 2023
Start Date: 11/12/2023
End Date: 11/17/2023
Venue: Colorado Convention Center; Denver, USA
Organizer: SIGHPC / TCHPC / IEEE Computer Society