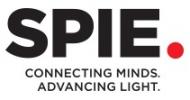 Attend for SPIE Photonics West 2018, the world's largest annual event for the photonics, laser, and biomedical optics industries.
Every year over 20,000 attendees come to hear the latest research and find the latest devices and systems that use new technologies to enable advancements in translational biophotonics, global healthcare, understanding of the brain, new lasers for manufacturing, applications of 3D technologies, photonics-based consumer products, and more.
Science and industry connect at SPIE Conferences and Exhibitions. The greatest minds showcase the latest innovations across a wide range of technologies.
Special Events at Photonics West 2018. Choose from more than 70 special events to attend, learn, network, and have fun. Events include the Saturday night BiOS Hot Topics, the Monday Welcome Reception, plenary sessions, technical events, social and networking events, the Prism Awards and Startup Challenge, valuable panels and keynote presentations for industry and more. Learn more
More details are available on www.spie.org.
Start Date: 01/27/2018
End Date: 02/01/2018
Venue: San Francisco, CA (USA); The Moscone Center
Organizer: SPIE