EMC 2016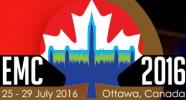 The 2016 IEEE International Symposium on Electromagnetic Compatibility, sponsored by the IEEE EMC Society, featuring an embedded Signal Integrity and Power Integrity conference, is the must-attend event for EMC engineers of all levels and specialties.
The IEEE EMC Symposium provides knowledge and tools that help engineers address electromagnetic environmental effects and electromagnetic compatibility. Stay abreast of current technologies, testing and engineering methods.
Event Highlights
Keynote Speaker
Embedded SIPI Conference
Special Focus on Military EMC
Aerospace EMC Special Session
Ask the Experts
Panel Discussions
Schedule of technical sessions is available by this link. Here you will find people involved in the fields of EMC and SI/Power Integrity technology participating in a diverse range of sessions, meetings, experiments, demonstrations, professional development, and society awards. In this technical program, three theme topics are planned in addition to the other excellent EMC topics; Signal and Power Integrity, EMC for Emerging Technologies and Space EMC, to highlight the industry in Canada's Capital.
Start Date: 07/25/2016
End Date: 07/29/2016
Venue: Ottawa, Canada; The Shaw Centre
Organizer: IEEE EMC Society