IMS 2016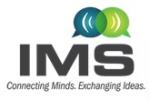 The IEEE MTT International Microwave Symposium (IMS) is the premier annual international meeting for technologists involved in all aspects of microwave theory and practice. It consists of a full week of events, including technical paper presentations, workshops, and tutorials, as well as numerous social events and networking opportunities. The symposium also hosts a large commercial exhibition.
IMS2015 Highlights:
Total participation of 8626 including 4633 conference and exhibit-only attendees from 56 countries.
Over 75 technical sessions, workshops, and panels sessions
54 MicroApps sessions
A record breaking exhibition with 620 exhibiting companies including 67 first-time participating companies
Engineering Students played a large part in the event through numerous presentations as well as the student design competition, student paper competition, PhD Initiative, and Project Connect
The STEM Program on Thursday had over 200 middle and high-school participants
The symposium's first ever Wearables + Wireless Pavilion, which showcased emerging wearable electronics that utilized RF and microwave technologies
The debut of the RF Bootcamp, a three-quarter day course for newcomers to the microwave world
Registration can be taken here.
www.ims2016.org
Start Date: 05/22/2016
End Date: 05/27/2016
Venue: San Francisco, CA, USA; Moscone Center
Organizer: IEEE / MTT-S