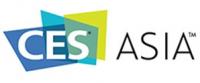 CES Asia serves as the premier event for the consumer technology industry, showcasing the full breadth and depth of innovation in the Asian marketplace. Located in Shanghai, China, key global businesses are participating in this inaugural event to grow and reinforce their brands by showcasing the latest products and technologies to consumer technology industry executives, international buyers, media and a limited number of consumers from China.
CES Asia will focus on three major themes: connectivity, innovation and the Internet of Things. Exhibitors on the show floor will represent 15 product categories including 3D printing, audio, content and online, green technologies, health, home entertainment, lifestyle, mobile, robotics, smart home, sports and fitness, vehicle technology, video/4K Ultra HD, video gaming and wearables.
Attendees will have exclusive access to some of the largest brands from China and around the world, while celebrating the innovation that defines the consumer technology industry. CES Asia will also feature companies currently doing business in China who want to expand and enhance their business presence in China and across Asia.
Registration is available here.
Start Date: 05/11/2016
End Date: 05/13/2016
Venue: Shanghai, China; Shanghai New International Expo Center (SNIEC)
Organizer: Consumer Electronics Association (CEA)