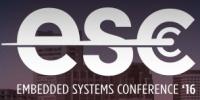 The Embedded Systems Conference (ESC) is the industry's largest and most comprehensive embedded technology conference in the United States.
In sessions led by engineers developing next-generation products and top experts in the field, attendees gain insight into how engineers are working through the inherent challenges of systems design, acquire new skills and strategies for optimizing embedded designs, and get a handle on the future of the industry.
Join thousands of technical professionals and embedded systems hardware, software, and firmware developers to learn about the latest techniques and tricks for reducing time, cost, and complexity in the embedded development process.
The ESC Conference Program consists of tracks covering all aspects of embedded systems, real-world case studies, and key technical principles. Those tracks include:
Embedded Hardware
Embedded Software
Connected Devices and the Internet of Things (IoT)
ESC Engineering Theater
Exhibitors
50+ solution suppliers and service providers. Catch up with your existing electronics, manufacturing, medical, quality and plastics suppliers. Exclusive, hands-on tours of the current leading innovations and future products.
Education and training
Get technical training and education around the Convention Center and on the Expo floor in the ESC Engineering Theater and in-booth vendor sessions on the most cutting-edge technology and systems that matter most to you and your business.
Expo passes can be got here.
Start Date: 04/13/2016
End Date: 04/14/2016
Venue: Boston, MA, USA; Boston Convention & Exhibition Center
Organizer: UMB