AKTAKOM ASE-1101 is a durable soldering station with digital indication of soldering iron temperature. The temperature can be easily regulated with a rotary switch on the front panel.
This soldering station is especially recommended for transistors and microchips assembly produced in accordance with CMOS technology.
AKTAKOM ASE-1101 soldering station is ESD-safe. This is an important requirement that should be met since the absence of antistatic protection may cause the damage of valuable electronic components with electro static discharge.
AKTAKOM ASE-1101 soldering station (analog of JF-96ESD) is equipped with high-quality heating element that can be easily replaced. This heating element is covered with alumoceramic layer and inserted into ceramic housing. Such a reliable structure fully isolates the heating element from the environment effect and therefore protects the heating element from corrosion providing its high durability accordingly.
Multilayer (copper, steel and stannum) cover of the tip operating part has excellent thermal conduction and provides optimal high effective heat transmission. ASE-1101 soldering station is capable of assembling with 482-536°F / 250-280°C tip temperature completely guaranteeing the safety of printed conductors and electronic components.
Features
The temperature control scheme provides high precision with accuracy not more than 2°F/-16.7°C from the set temperature
The ergonomic design of a soldering iron handle provides convenient work; the handle covering is made of silicone rubber
Power supply device is isolated from alternating current network
Simplicity of calibration
For the heating element supply the voltage of 24V is used
Tip leakage is less than 0.4mV and the resistance is 0.5MΩ
Sliding tray for sponge
The temperature range: 392°F to 932°F / 200°C to 500°C
High-quality and durable ceramic heating element produced in Japan provides quick heating, the insulation resistance is more than 100MΩ with the temperature of 750°F / 399°C
ESD safe
Please note: ASE-1101 Soldering station is available in both (C°) and (F°) temperature settings. It is automatically set in (F°), however if you'd like it to be in (C°) please notify us in comments then making a purchase, or by contacting our sales department sales@tmatlantic.com
Specifications
Station
AC Input: 110-120V, 60Hz
Temperature Range: 390-930°F / 199-499°C
Dimensions: 6.7x4.7x4.1 in / 170x120x104 mm
Weight: 3.7lb/1.7kg
Soldering iron
Power Consumption: 24V/60W
Heating element: Ceramic heater
Leakage is less than 0.4mV
Included accessories
1. Power cable

2. Soldering iron holder

3. Soldering iron

4.Soldering Tip 90M-T-0.8C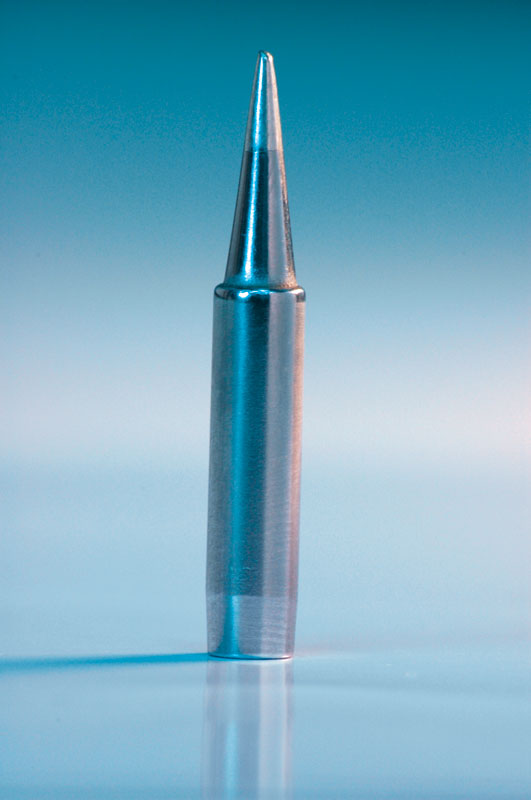 5. Sliding tray for sponge

6. User manual

La estación para soldar AKTAKOM ASE-1101 es una estación de soldadura con protección antiestática e indicación digital de la temperatura del soldador. Se recomienda especialmente para los transistores de campo y el montaje microchips producidos de acuerdo con la tecnología CMOS
Ventajas:
El esquema de control de temperatura proporciona una alta precisión con una precisión de no más de 2 ° F / -16.7 ° C de la temperatura
El diseño ergonómico del mango soldador ofrece un trabajo cómodo, la cubierta mango está hecho de caucho de silicona
La fuente de poder esta aislada de la corriente alterna
Calibración fácil
Para el elemento de calefacción se utiliza 24V
El tipo de fuga es mnero a 0.4 mV y la resistencia es de 0.5 MΩ
Bandeja deslizante para una esponja
La alta calidad y durabilidad del elemento de calefacción de cerámica producido en Japón proporciona un calentamiento rápido y la resistencia de aislamiento es más de 100 MΩ con la temperatura de 750 ° F / 399 ° C
Tenga en cuenta: Que la estacion de soldar ASE-1101 esta disponible en dos versiones; Configurada para medir la temperatura en grados C° o en F°.
Normalmente viene configurada en grados F°, pero si la prefiere en grados C° por favor haganoslo saber por medio del Departamento de Ventas. Gracias