New software from Aktakom!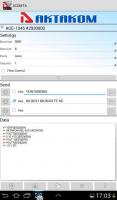 09/18/2017
We'd like to introduce a new software from Aktakom!
Aktakom COM-Terminal for Android is Android-based software designed to transfer and receive data via RS-232 serial protocol in the manual mode. Hardware part is taken by Aktakom ACE-1045 interface converter.
On page of Aktakom COM-Terminal you will find a detailed installation instruction.
The new software is available already on Google Play and absolutely for free!
---
Related Information:
Design. Engineering. Value. Interest. Creativity. Encyclopedia.