Specifications:
Desoldering station:
AC Input: 110-120V, 60Hz
Temperature Range: 570-840°F/299-449°C
Dimensions: 6.7×4.7×­4.1in/170×120×104mm 
Weight: 2.2lb/1kg
Desoldering iron: 
Power Consumption: 45W at 660°F/345°C
Heating element: Ceramic heater
Ceramic heater insulation rated over 100MΩ at 750°F/399°C
Accessories:
1. Power cable

2. Desoldering iron holder

3. Desoldering Gun

4. Sliding tray for sponge

5. User manual

Optional accessories:
Desoldering tips delivered to the special order
80T-10  — D=0,039 in / 1mm
80T-12  — D=0,047 in / 1.2mm
80T-15  — D=0,059 in / 1.5mm

Working with Desoldering Station ASE-2101
First thing before you start working with the station you need to set the required temperature using the temperature controller knob.
Desoldering station AKTAKOM ASE-2101 is used for removing items, so we recommend the temperature to be set at 10%-15% higher than regular soldering and melting temperatures!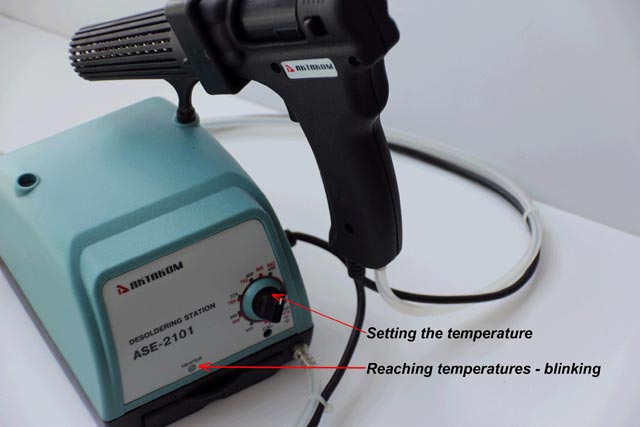 The set temperature is reached after the «Heater» indicator starts blinking. Pay attention! After the station is heated do not touch the soldering tips!
To remove melted solder from the board bring Soldering Tip to required area of the board and press the trigger button. The compressor will turn on.
If you are not satisfied with the rate of removal of melted solder you can check the compressor suction force. To do that you must first turn off the station and allow it to cool of the Soldering Tip! Next remove the collection capsule and breathy turn on the station. Press the trigger button to turn on the compressor. To check its effectiveness plug the suction hole with your finger.
To improve the suction rate of the compressor you can temporarily remove the air filter.
To return the collection capsule to its place make sure the word FRONT faces the tip of the station.
Have a successful and productive work day using the soldering stations AKTAKOM!