User manual for AKTAKOM ASE-1128 soldering station is now available on our website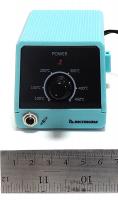 09/19/2018
To make AKTAKOM ASE-1128 soldering station operation much more convenient we have added its User manual to the model page. Read or download the pdf-file for further use.
Moreover "Application" tab of ASE-1128 contains now the detailed operation instruction.
AKTAKOM ASE-1128 temperature controlled soldering station is suitable for soldering SMDs (surface mounted devices) that require diverse power levels. The soldering tip reaches a temperature of approx. 450°C.
Check more details about this super compact and low cost soldering station (for just 11$!) by clicking here.