DISSOLVED OXYGEN METER with SD CARD DATA LOGGER is a step forward in the field of precision measurement. Although this meter is a complex and delicate instrument, its durable structure will allow many years of use.
Features:
Precision dissolved oxygen measurement
Dissolved oxygen: 0 to 20mg/l.
Dissolved oxygen meter use the polar graphic type oxygen probe with temperature sensor, high precision measurement for Dissolved Oxygen (DO) and temperature measurement.
Heavy duty dissolved oxygen probe, probe head can connect with BOD bottle.
DO use the automatic Temp. compensation.
DO meter build in "% SALT" & "Mountain Height" compensation value adjustment.
Separate probe, easy for operation of different measurement environment.
Real time SD memory card Datalogger, it Built-in Clock and Calendar, real time data recorder , sampling time set from 1 sec to 8 hour 59 min. 59 sec.
Manual datalogger is available (set the sampling time to 0), during execute the manual datalogger function, it can set the different position (location) No. (position 1 to position 99).
Innovation and easy operation, computer is not need to setup extra software, after execute datalogger, just take away the SD card from the meter and plug in the SD card into the computer, it can down load the all the measured value with the time information (year/month/date/ hour/minute/second) to the Excel directly, then user can make the further data or graphic analysis by themselves.
SD card capacity: 1GB to 16GB.
LCD with green light backlight, easy reading.
Can default auto power off or manual power off.
Data hold, record max. and min. reading.
Microcomputer circuit, high accuracy.
| | |
| --- | --- |
| Interface | USB (through interface converter), RS-232 |
| Display | LCD |
| Power supply | 6 x 1.5 V battery or DC 9V adapter |
| Dimensions | 6.7 x 2.7 x 1.7 in / 177 x 68 x 45 mm |
Specifications:
Circuit
Custom one-chip of microprocessor LSI circuit.
Display
LCD size: 2x1.5in / 52mmx38mm
LCD with green backlight (ON/OFF).
Measurement
Dissolved Oxygen
Air oxygen (for reference only)
Measurement & Range
Dissolved Oxygen
0 to 20.0mg/l (liter).
Oxygen in Air
0 to 100.0%.
Temperature
0 to 50°C.
Resolution
Dissolved Oxygen
0.1mg/l.
Oxygen in Air
0.1 % O2
Temperature
0.1°C.
Accuracy (23±5°C)
Dissolved Oxygen
± 0.4 mg/L.
Oxygen in Air
± 0.7% O2.
Temperature
± 0.8°C/1.5°F.
Probe Compensation & Adj.
Temperature
0 to 50°C, Automatic
Salt
0 to 50%

Height (M. T)
0 to 8900 meter
Datalogger Sampling Time Setting range
Auto

1 sec to 8 hour 59 min. 59 sec.
@ Sampling time can set to 1 second, but memory data may loss.

Manual
Push the data logger button once will save data one time.
@ Set the sampling time to 0 second.
@ Manual mode, can also select the 1 to 99 position (Location) no.
Oxygen Probe
The polarographic type oxygen probe with temp. sensor.
Memory Card
SD memory card. 1GB to 16GB.
Advanced setting
* SD memory card Format setting
* Set clock time (Year/Month/Date, Hour/Minute/ Second)
* Set sampling time
* Auto power OFF management
* Set beep Sound ON/OFF
* Decimal point of SD card setting
* Set temperature unit to °C or °F
* Set DO salt% compensation value
* Set DO height (meter) compensation value
* Set DO height (feet) compensation value
Data Hold
Freeze the display reading.
Memory Recall
Maximum & Minimum value.
Sampling Time of Display
Approx. 1 second.
Data Output
RS 232/USB PC computer interface.
* Connect the optional RS232 cable UPCB-02 will get the RS232 plug.
* Connect the optional USB cable USB-01 will get the USB plug.
Operating Temperature
0 to 50°C.
Operating Humidity
Less than 85% R.H.
Power Supply
* Alkaline or heavy duty DC 1.5 V battery (UM3, AA) x 6 PCs, or equivalent.
* ADC 9V adapter input. (AC/DC power adapter is optional).
Power Current
Normal operation ( w/o SD card save data and LCD Backlight is OFF) : Approx. DC 14mA.
When SD card save the data and LCD Backlight is OFF): Approx. DC 37mA.
* AIf LCD backlight on, the power consumption will increase approx. 12mA.
Weight
Meter
489g / 1.08lb.
Probe
335g / 0.74lb
Dimension
Meter
177x68x45mm / 7.0x2.7x1.9in
Probe
190x28mm Dia. 7.5x 1.1in Dia.
Accessories Included

* Oxygen probe
* Hard carrying case
* Operation manual
* Spare Probe head with Diaphragm - 2 set
* Probe-filling Electrolyte - 1 set
Oxygen probe
Hard carrying case


Operational manual


Spare Probe head with Diaphragm
Probe-filling Electrolyte
Controls of Aktakom ATE-3012 and ATE-3012BT Oxygen Meters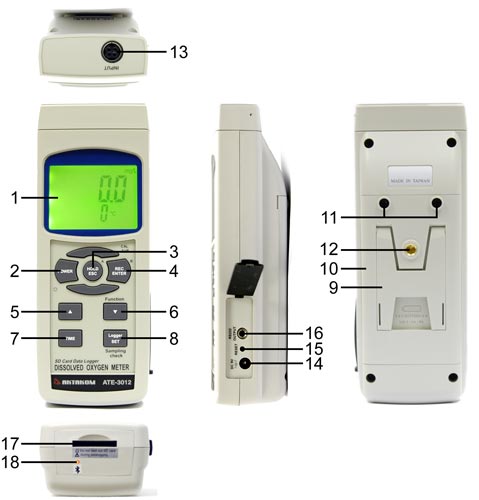 Display
POWER button to switch on the device (also backlight button)
HOLD button to hold the current value (also ESC button to exit the extended menu)
REC button to record max. and min. values (also ENTER button to confirm the set value)
▲ button to set values
▼ button to set values (also Function button to select the parameter under measurement)
TIME button to check the time and date
LOGGER button to activate the data logger mode (also SET button to enter the extended settings mode and to change the menu element in the extended settings mode
Holder
Battery compartment cover
Battery cover screws
Screwed connection for the tripod use
Socket for the measurement probe
Socket for the DC 9V power adapter
Reset button
RS-232 OUTPUT for the PC communication cable
SD-card slot
LED indicator of Bluetooth interface (for ATE-3012BT only!)
Aktakom ATE Easy Monitor (ATEE Monitor)
AKTAKOM ATE Easy Monitor software provides the numerical indication of 4 channel measurements as well as the data recording into file in CSV format. For the device connection the use of ACE-1025/ACE-1026 USB-RS232 interface converters is required.
Free for registered users
Download
(2.16 Mb)
Product registration required
Aktakom Data Logger Monitor (ADLM-A)
ADLM-A software is designed for data reading from devices of AKTAKOM ATT, ATE series, for measurement data acquisition, its processing, displaying and storage in a tablet PC with Android OS of 4.0 and more advanced versions.
Aktakom Data Logger Monitor (ADLM-W)
ADLM-w software is designed for data reading from devices of AKTAKOM ATT, ATE series, for measurement data acquisition, its processing, displaying and storage in a PC with Windows XP x32, Windows 7 x64, Windows 7x32, Windows 8 x64, Windows Vista OS.
Download
(8.68 Mb)
Product registration required
Medidor de oxígeno disuelto con grabador de datos y tarjeta SD. Aunque este medidor es un instrumento complejo y delicado, su estructura es muy durable y permitirá muchos años de uso.
Características:
Alta precisión en la medición del oxígeno disuelto
Oxígeno disuelto: de 0 a 20 mg/l
Medidor de oxígeno disuelto que utiliza sonda de oxigeno tipo gráfico polar con sensor de temperatura, medición de alta precisión para Oxígeno Disuelto (OD) y temperatura.
Sonda de oxígeno disuelto resistente, la cabeza de la sonda se puede conectar con una botella de DBO (Demanda biológica de oxígeno).
Utiliza la compensación automática de la temperatura.
Ajusta o compensa automaticamente el % de sal o la altura de montaña.
Sonda independiente, fácil para la operación en diferentes entornos de medición.
Registros de datos de memoria con tarjeta SD en tiempo real, integra Reloj y Calendario, grabacion de datos en tiempo real, tiempo de muestreo configurable desde 1 segundo hasta 8 horas 59 min. y 59 seg.
Registrador manual de datos disponible (ajuste del tiempo de muestreo a 0), durante la ejecución de la función de registro de datos manual, puede ajustar la posición numerica para la grabación de datos de la posición 1 a la 99.
Innovación y fácil operación, no se necesita una computadora para configurar el software adicional, después de ejecutar la grabación de datos (Datalogger), sólo quite la tarjeta SD del medidor y coloquela en su ordenador, podrá descargar todas las mediciones con la información de año / mes / día / hora / minuto / segundo y pasarlos a Excel directamente, entonces el usuario podra hacer análisis de datos y gráfico por sí mismos.
Capacidad de la tarjeta SD: 1GB a 16GB.
Pantalla LCD con luz de fondo verde claro y de fácil lectura.
Por defecto apagado automático o manual seleccionable.
Retención de datos, registro de máx. y min.
Circuito microcomputarizado de alta precisión.
Back to the section