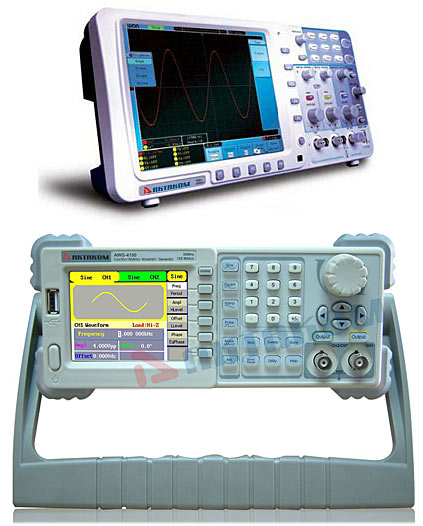 Click an image to enlarge
Ideal for precise measurements, as well as, electronics development and debugging.
The Performance Precision and Price Package includes:
Aktakom ADS-2111M Digital Storage Oscilloscope 100MHz bandwidth 2 channel digital storage oscilloscope with a 1GSa/s sample rate and an 8″ color TFT-LCD display with 800x600 resolution offers huge amounts of memory, and USB flash storage support.
 And Aktakom AWG-4150 Function/Arbitrary Waveform Generator 50MHz Dual channel output; Max. frequency output: 50 MHz; Sample rate: 125 MSa/s; Wave length: 16 Kpts (channel one can choose 512 Kpts); Frequency resolution: 14 Bit; Waveform: Sine wave, square wave, triangular wave, pulse wave, white noise, 48 types of function waveform; Gaussian white noise: 50 MHz bandwidth (-3dB)
And Aktakom Carry Bag.
+ Free Shipping.
Retail price : $977.00


Free shipping for orders over $450
on items weighting under 20 lbs
(certain restrictions apply!)
See shipping page for international rates
or contact sales@tmatlantic.com

In stock