Soldering iron tip for AKTAKOM ASE-1101, 1102, 3101, ASE-1105, ASE-1106, ASE-4203, ASE-4204 soldering stations with sharpening "spatula".
Such tips are used for soldering radio component, from ultra small to a massive one
Soldering tips are made of oxygen-free copper with the steel center and nickel-chromic external covering, the correct use secures a long service life. The long exploitation term of the tips is gained due to their multilayer structure in which the external layer (chrome) is protective, internal (copper) is responsible for heat conductivity, intermediate (steel) — for durability and long operating life. And a working part (tin) — for good solder wettability.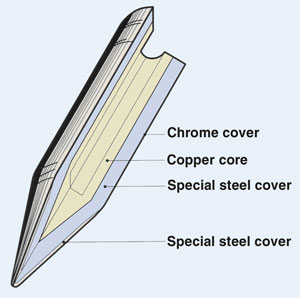 Attention!
Multilayered Soldering tips don't need any sharpening.
Unreasonable high temperature shortens service life. Use the minimal acceptable temperature, if possible.
Soft tip cleaning from carbon is made with a damp cellulose sponge as oxide and carbides of solder and gumboils can pollute a tip affecting the soldering quality and decreasing the heat transfer.

See how to use a sponge for soldering iron.
During continuous work, it's necessary to take the tip off and to complete cleaning from oxides no less than once a week. Solder on the tip must stay even in a cold condition.
Do not use aggressive soldering flux, consisting of chlorides, or acid. Use colophony flux.
Punta de soldador para estaciones de soldadura AKTAKOM ASE-1101, 1102, 3101, ASE-1105, ASE-1106, ASE-4203, ASE-4204 con "espátula" de afilado.
Estos consejos se utilizan para soldar componentes de radio, desde ultra pequeño a masivo
Las puntas de soldadura están hechas de cobre sin oxígeno con el centro de acero y la cubierta externa de níquel-cromo, el uso correcto asegura una larga vida útil. El largo plazo de explotación de las puntas se gana debido a su estructura multicapa en la que la capa externa (cromo) es protectora, la interna (cobre) es responsable de la conductividad térmica, intermedia (acero), por su durabilidad y larga vida útil. Y una parte de trabajo (estaño): para una buena humectabilidad de la soldadura.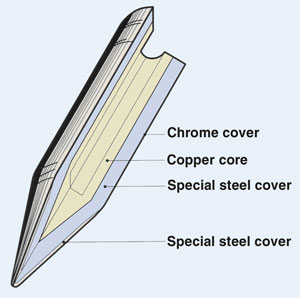 ¡Atención!
1.Las puntas de soldadura multicapa no necesitan afilarse.
2.La temperatura alta irrazonable acorta la vida útil. Use la temperatura mínima aceptable, si es posible.
3.La limpieza suave de la punta del carbón se realiza con una esponja de celulosa húmeda, ya que el óxido y los carburos de soldadura y gumboils pueden contaminar una punta que afecta la calidad de la soldadura y disminuye la transferencia de calor.



Vea cómo usar una esponja para soldar.

4. Durante el trabajo continuo, es necesario quitar la punta y completar la limpieza de los óxidos no menos de una vez por semana. La soldadura en la punta debe permanecer incluso en condiciones de frío.
5. No utilice fundente de soldadura agresivo, que consiste en cloruros o ácido. Use flujo de colofonia.