AKTAKOM AEC-3534 ESD-safe laboratory chair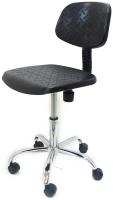 04/05/2021
As we know it's necessary to pay special attention to means of protection against electrostatic charging when equipping modern electronics production. For this purpose AKTAKOM has special ESD-safe laboratory chairs of different design.
One of them is AEC-3534. PU Foaming surface resistance of this model is 106-109 Ω. Five star foot of chrome plating steel with 5 conductive type wheels provide good conductivity and allow the static charge to flow smoothly and continuously.
The height of this model is adjustable and user may regulate it at his own convenience: 18.1 - 24 in / 460 - 610 mm. The dimensions of the seat and back: 16.5 x 15.8 in / 420 x 400 mm and 15 x 10.2 in / 380 x 260 mm accordingly.
More details is available on
AKTAKOM AEC-3534 chair page
.