Test & Measuring Instruments and Solutions
Company News

10/12/2011 | 1573
A package that combines all the basic equipment necessary for assembling a new High Tech Electronics Laboratory. The laboratory package includes: Aktakom ADS-5304 (300MHz; 2GS/s; 4ch) Digital Storage Oscilloscope, Aktakom AWG-4150 (50MHz; 125 MS/s; Wave length: 16 K pts.; 2ch) Function / Arbitrary Waveform Generator, Aktakom APS-7205 ( 32V:5A; 3ch programmable) Power Supply and Aktakom AMM-1038 6 True RMS Professional Digital Multimeter with USB wireless interface
Free Shipping
10/11/2011 | 1222
A package deal that combines all the basic equipment necessary for assembling a new electronics laboratory. The laboratory package includes: Aktakom ADS-2061M (60MHz; 500MS/s; 2ch) Digital Storage Oscilloscope, Aktakom AWG-4105 (5MHz; 125 MS/s; Wave length: 16 K pts.; 2ch) Function / Arbitrary Waveform Generator, Aktakom APS-3205 ( 30V:5A; 2ch) Power Supply and Aktakom AMM-1062 6 in 1 Professional Digital Multimeter with Environment Measurements (Light Meter, Humidity Meter, Temperature Meter & Non-contact AC voltage detector).
Introductory Prices start from $999.00 Plus Free Shipping and Free Oscilloscope Carry Bag
08/17/2011 | 1196
Join some of the best colleges in the country who bought Aktakom's latest innovation the ADS-2061M(V)
Click on the picture for more details

07/29/2011 | 1553
Aktakom's oscilloscopes has become the talk of the blogosphere, click on the blogger icon to read the posts.
07/28/2011 | 1189
07/20/2011 | 1064
Full line of Aktakom wave form generators ranging from 5 to 50 MHz are now available on our website
These high quality devices are durable and low priced starting from just $398.00
07/19/2011 | 1051
For over twenty years Tronex Technology, Inc. has manufactured precision hand cutting tools that set world standards for cutting performance, quality, comfort, and value. Leading technology companies in America, Europe, the Middle East, Asia, and Australia prefer using Tronex tools.
07/15/2011 | 996
ADS-2061MV  now comes with  VGA output that is very helpful to teacher who wants demonstrate oscilloscopes functions on the large screen. As for students the ADS-2061M is a perfect fit.
06/20/2011 | 2027
Introducing AKTAKOM ADS-2061M the newest hybrid oscilloscope on the market. 60 MHz, 8" TFT screen, lots of memory, latest technology. This highly portable unit is a hybrid between handheld and benchtop models with large screen and slim body it weighs under 4 lbs. and is 340x155x70 mm in dimension. With its optional battery, it can run for up to 4 hours stand alone.
You can learn more about it functions by watching this educational video: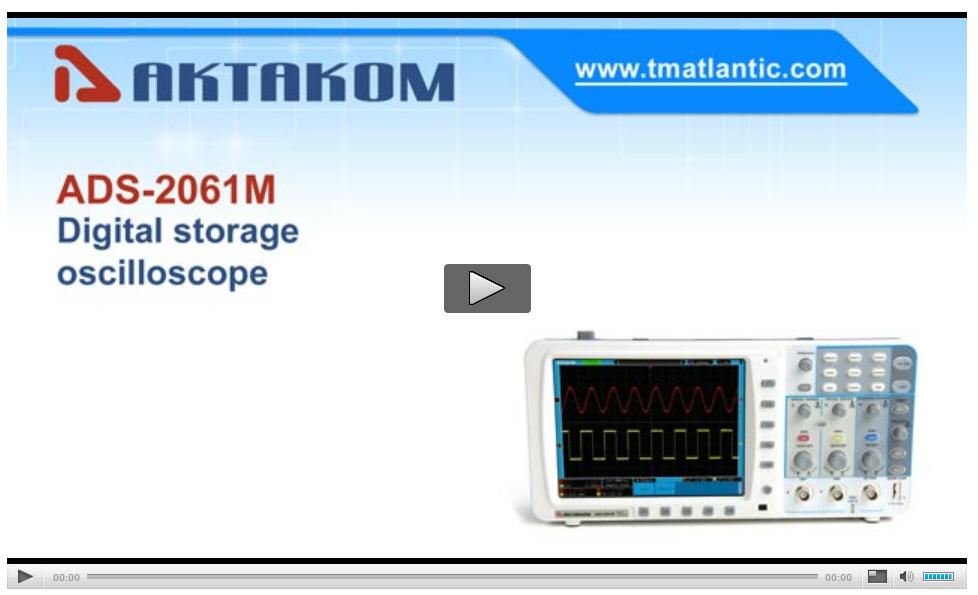 Introductory price $395.00 and free shipping!
To order contact: sales@tmatlantic.com
06/16/2011 | 1098
Construction projects cabling often require cable marking. See how to identify the installed cables by using the cable tracker AKTAKOM ACT-1012.
News 101 - 110 of 130
First
|
Prev.
|
9
10
11
12
13
|
Next
|
Last

Special Offers


PDS-8202T Oscilloscope 200MHz 2GS/s 2 channels+external trigger
(while supply lasts)


Equipment Financing
| | |
| --- | --- |
| T&M Atlantic and Crest Capital joined forces to offer financing to our business customers. You can apply for financing on purchases starting from $4000 by completing a simple application without the need for tax returns and financial statements, and benefit by getting a decision immediately rather than waiting weeks. | |
Site News

08/27/2014 | 245
Our "Events" section has been updated. It keeps the list of those exhibitions and trade shows which will be held this autumn already.

07/22/2014 | 293
For your convenience we added more pictures of AVS-1055 Video Borescope.


06/30/2014 | 272
Now there are User manuals for AKTAKOM ADS-4xxx series handheld digital storage oscilloscopes available on our web site.
You may see the User manuals for the following devices: ADS-4072, ADS-4112, ADS-4122, ADS-4152, ADS-4202, ADS-4222.

News 10 - 12 of 46
First
|
Prev.
|
2
3
4
5
6
|
Next
|
Last
| All
Industry News

02/26/2015 | 66
Cobham Wireless, formerly the Wireless Test Business of Aeroflex, and NI (Nasdaq: NATI), the provider of platform-based systems that enable engineers and scientists to solve the world's greatest engineering challenges, announced a worldwide partnership to service applications in cellular and connectivity with solutions based on PXI technology.
02/23/2015 | 65
Thanks to TDD/FDD joint operation technology, wireless network operators will soon be able to aggregately use existing frequency bands with different duplex modes. This yields even more flexibility for carrier aggregation in line with LTE-Advanced Release 12.
02/19/2015 | 63
Tektronix, Inc., the world's leading manufacturer of oscilloscopes, announced TekScope Anywhere™, a new software offering that extends the visualization, analysis, and reporting capabilities found on Tektronix oscilloscopes to Microsoft Windows-based PCs, tablets and servers. By decoupling analysis tools from the oscilloscope, engineers can now do much of their work away from the lab and collaborate more effectively with colleagues around the world.
News 10 - 12 of 460
First
|
Prev.
|
2
3
4
5
6
|
Next
|
Last
| All