03/04/2015 | 11
Anritsu announced that its stand at Mobile World Congress 2015 (Barcelona, 2-5 March) will feature a sophisticated, cloud-based connected car system for fleet tracking developed at the Smart Systems Laboratory, University of Hertfordshire in the UK, and demonstrated together using satellite positioning technology GNSS Simulator from Spectracom.
03/02/2015 | 17
Keysight Technologies, Inc. (NYSE: KEYS) announced new capabilities for the EXM wireless test set. The capabilities were added to address the latest technology evolutions in wireless communications with support for WLAN 802.11p, 802.11ah, 802.11ac Wave 2 Measurements, and Bluetooth® 4.2. The EXM now can make the measurements required to efficiently manufacture today's and tomorrow's Internet-of-Things wireless devices.
02/26/2015 | 27
Cobham Wireless, formerly the Wireless Test Business of Aeroflex, and NI (Nasdaq: NATI), the provider of platform-based systems that enable engineers and scientists to solve the world's greatest engineering challenges, announced a worldwide partnership to service applications in cellular and connectivity with solutions based on PXI technology.
02/23/2015 | 33
Thanks to TDD/FDD joint operation technology, wireless network operators will soon be able to aggregately use existing frequency bands with different duplex modes. This yields even more flexibility for carrier aggregation in line with LTE-Advanced Release 12.
02/19/2015 | 43
Tektronix, Inc., the world's leading manufacturer of oscilloscopes, announced TekScope Anywhere™, a new software offering that extends the visualization, analysis, and reporting capabilities found on Tektronix oscilloscopes to Microsoft Windows-based PCs, tablets and servers. By decoupling analysis tools from the oscilloscope, engineers can now do much of their work away from the lab and collaborate more effectively with colleagues around the world.
02/16/2015 | 49
Keysight Technologies, Inc. (NYSE: KEYS) announced the immediate availability of its newest field-emission scanning electron microscope (FE-SEM), the 8500B. The technologically advanced Keysight 8500B offers scientists the analytical power of energy dispersive spectroscopy (EDS), fully integrated within a remarkably compact, low-voltage FE-SEM.
02/12/2015 | 50
Anritsu announced that its stand at Mobile World Congress 2015 (Barcelona, 2-5 March) will feature a sophisticated, cloud-based connected car system for fleet tracking developed by the University of Hertfordshire in the UK with the help of network simulation technology from Anritsu.
02/09/2015 | 49
The arrival of a fully IP-based ATC communications solution from Rohde & Schwarz at the Indonesian Civil Aviation Safety and Engineering Academy (ATKP) of Medan, North Sumatra, marks the beginning of a new era for training operations in Indonesia. The ATC communications solution is a complete system from the microphone to the antenna. It will help students at the Academy become highly skilled ATC operators and technicians.
02/05/2015 | 58
Tektronix, Inc., the world's leading manufacturer of oscilloscopes, released a comprehensive set of USB 3.1 compliance test solutions that allows designers to quickly verify designs against the latest USB specifications and achieve fast time to market while minimizing costs. The new release expands Tektronix' already extensive USB 3.1 and USB 2.0 test capabilities to include a new USB 3.1 receiver test solution supporting the 10 Gb/s data rate, a new USB Power Delivery test solution and a new USB Type-C cable test solution.
02/02/2015 | 56
Keysight Technologies, Inc. (NYSE: KEYS) introduced measurement capability designed to help engineers quickly and accurately characterize PAM-4 (pulse amplitude modulation with four amplitude levels) signals using the Keysight 86100D DCA-X wide-bandwidth oscilloscope platform. Keysight 86100D-9FP PAM-N analysis software provides comprehensive analysis of optical and electrical PAM-4 signals.
01/28/2015 | 55
Anritsu has launched free e-Learning courses for mobile device engineers who use its Rapid Test Designer (RTD) software to test cellular modem chipsets and devices under development.
01/26/2015 | 65
The latest version of HDMI has paved the way for launching high resolution 4K/UltraHD products on the consumer market. Rohde & Schwarz is supporting this development by adding two HDMI 2.0 6G test modules to its video tester family. The company is offering the first integrated, easy to operate solution for electrical measurements of HDMI 2.0 sources. The video testers also enable protocol compliance verification for consumer electronics equipment.
01/22/2015 | 69
Keysight Technologies, Inc. (NYSE: KEYS) announced the latest release of GoldenGate software, the industry's most trusted and proven simulation, analysis and verification solution for large-scale RFIC circuit design. Keysight EEsof EDA's GoldenGate 2015.01 offers new and enhanced capabilities designed to improve productivity and efficiency for silicon RFIC designers.
01/19/2015 | 78
NI (Nasdaq: NATI), the provider of solutions that enable engineers and scientists to solve the world's greatest engineering challenges, announced the release of NI Trend Watch 2015. The second annual report examines a range of topics – from the industrialization of the Internet of Things (IoT) to the growth impact of the maker movement.
01/15/2015 | 69
Anritsu Company introduces an electromagnetic field (EMF) radiation measurement system for its Spectrum MasterTM MS271xE handheld spectrum analyzers and Cell MasterTM MT8212E/MT8213E base station analyzers. With the option installed and an Anritsu isotopic antenna attached, the analyzers can be used by field technicians of government regulatory authorities and cellular operators to measure electromagnetic fields, ensuring wireless networks are in compliance with various national standards for personal safety.
01/12/2015 | 66
16 bit vertical resolution with the R&S RTO and R&S RTE. Additional bandwidths, a history mode and segmented memory for the R&S RTM. Numerous compliance, triggering and decoding options for all oscilloscopes. Rohde & Schwarz will demonstrate these highlights and other innovations from its scope of the art portfolio at embedded world 2015 in Nuremberg.
01/07/2015 | 80
Keysight Technologies, Inc. (NYSE: KEYS) introduced compliance test software for the latest Mobile High-Definition Link (MHL) specification. The MHL 3 source compliance test software allows engineers to test their MHL 3 transmitters the same way they are tested at official authorized MHL compliance test centers using Keysight Infiniium oscilloscopes.
01/05/2015 | 94
Anritsu announced an upgrade to its MT8852B Bluetooth tester, providing support for the Data Length Extension introduced to Bluetooth Low Energy as part of the latest Bluetooth Core Specification version 4.2.
12/31/2014 | 123
Rohde & Schwarz is expanding its R&S RTM bench oscilloscope family by adding a new model that is ideal for the education sector. The instrument features a 200 MHz bandwidth and an education mode that deactivates special measurement tools to help students quickly learn how to work with an oscilloscope. The new digital voltmeter and frequency counter option also supports users in development, manufacturing and service with fast, precise results.
12/29/2014 | 87
Keysight Technologies, Inc. (NYSE: KEYS) announced comprehensive pulsed radar analysis software. The new 89600 VSA software's pulse analysis option (BHQ) is used in radar and electronic counter measure applications for capturing and analyzing threats and jamming responses.
12/24/2014 | 87
NI (Nasdaq: NATI), the provider of solutions that enable engineers and scientists to solve the world's greatest engineering challenges, announced the LabVIEW Communications System Design Suite, which combines software defined radio (SDR) hardware with a comprehensive software design flow to help engineers prototype 5G systems.
12/22/2014 | 89
Anritsu Company introduces functionality for its BTS Master™ MT8220T base station analyzer that allows field engineers and technicians to conduct highly accurate and efficient LTE-Advanced Carrier Aggregation (CA) measurements during network deployment and maintenance. With the new capability, the MT8220T can conduct key LTE-Advanced CA measurements for all active component carriers (CCs) and display them simultaneously on the same screen, allowing users to quickly and accurately verify LTE-Advanced CA field installation.
12/17/2014 | 82
With its R&S RTE and R&S RTO oscilloscopes, Rohde & Schwarz is one of the first suppliers to offer analysis solutions for the CAN flexible data (CAN FD) interface protocol. A new option enables design engineers to analyze CAN interfaces that support the high speed CAN FD bus protocol. These interfaces are seeing increased use in automotive and industry applications due to rising data rate requirements.
12/15/2014 | 82
Keysight Technologies, Inc. (NYSE: KEYS) announced that it has won the Elektra 2014 Educational Support award given by the European Electronics Industry. The educational support award category is dedicated to companies that have truly demonstrated their commitment to the education of engineers of the future by providing support to schools, colleges and universities.
12/10/2014 | 96
Tektronix, an industry-leading innovator of video quality monitoring solutions, announced that Royal Thai Army Radio and Television Channel 5 (TV5) has selected Tektronix Sentry and Medius to analyze and monitor video and audio content and transmission quality on the front-end and at its DVB-T2 Tx stations. Realtime monitoring and advanced analysis and reporting will help one of Thailand's largest broadcasters deliver reliable, high-quality audio/video service to its huge base of TV subscribers and lower overall operating costs.
12/08/2014 | 87
Seven new modules have been added to the R&S OSP open switch and control platform from Rohde & Schwarz. Users now have altogether 28 modules at their disposal for implementing a variety of RF wiring configurations between test instruments and DUTs. This allows them to reproducibly configure even automatic path switchovers in complex RF test systems and control them via Ethernet.
12/03/2014 | 93
TechShop, a DIY workshop and fabrication studio with locations around the US, celebrated its one-year anniversary this weekend in the Chandler Innovation Center at Arizona State University (ASU). As part of the celebration, we unveiled our third NI Electronics Lab (following lab openings in Round Rock and San Francisco earlier this year)that includes LabVIEW system design software as well as myRIO, myDAQ, and VirtualBench hardware.
12/01/2014 | 121
Keysight Technologies, Inc. (NYSE: KEYS) introduced test support for the eDP 1.4 (embedded DisplayPort) specification. Keysight N6469A eDP 1.4 electrical performance and characterization test software allows developers using eDP technology to eliminate guesswork and streamline their testing by using application software specifically designed for their needs.
11/26/2014 | 97
Anritsu Company announces it has successfully demonstrated stable peak data throughput for a Category 9 LTE device and network simulator using 3x Carrier Aggregation (3x CA). Utilizing devices featuring an LTE Advanced modem from Qualcomm Technologies, Inc., a wholly owned subsidiary of Qualcomm Incorporated, and Anritsu's MD8430A/RTD LTE Simulator, the Company was able to successfully show support of 3x Carrier Aggregation (CA) with three LTE FDD or TDD component carriers, each with a bandwidth of up to 20 MHz, allowing Category 9 end-to-end peak data rates of up to 450 Mbps in the downlink.
11/12/2014 | 114
Tektronix, Inc., a leading worldwide provider of test, measurement and monitoring instrumentation, has introduced a new class of affordable spectrum analyzers based on a USB architecture with a list price of just $3,490. The new RSA306 sets a new price/performance threshold for spectrum analyzers and features a broad 9 kHz to 6.2 GHz frequency range, 40 MHz real time bandwidth and weighs in at just 1.2 pounds. When used with Tektronix SignalVu-PC software, it offers advanced analysis capabilities for such applications as budget-conscious research and development, mobile radio network installation, interference hunting and university level lab classes.
11/10/2014 | 132
With its R&S DDF5GTS, Rohde & Schwarz is introducing a powerful scanning direction finder with diverse application options. It offers fast, accurate direction finding and uses multichannel DF antennas for sensitivity that meets the highest demands while ensuring immunity to reflections.
11/05/2014 | 126
Keysight Technologies, Inc. (NYSE: KEYS) introduced 200-, 300- and 500-MHz, high-voltage probing solutions with a wider input range, higher common-mode rejection ratio and optimized accessories. The probes are ideal for testing today's switching power supplies or power devices and for measuring motor drives and vehicle buses.
10/29/2014 | 110
Anritsu Company introduces a revolutionary mobile interference hunting system that helps field engineers and technicians locate sources of interference more accurately, efficiently, and economically. Integrating an easy-to-use interface, fast setup times, and numerous features to effectively hunt a variety of signal types in multiple RF environments, the comprehensive solution provides wireless carriers, regulatory agencies, and broadcast and satellite operators with a tool that saves time and money.
10/27/2014 | 124
NI (Nasdaq: NATI), the provider of solutions that enable engineers and scientists to solve the world's greatest engineering challenges, announced its collaboration with CROWD, the European Union Framework Project 7 (EU FP7), to define next-generation wireless 5G communications. CROWD researches the combination of small- and large-density cells in a heterogeneous wireless network for an efficient architecture in which small cells meet traffic hot-spot needs while large cells offer reliable coverage for high-mobility users.
10/22/2014 | 106
Tektronix, Inc., the world's leading manufacturer of oscilloscopes, announced the industry's first complete PHY layer and conformance test solution for JEDEC LPDDR4, the next generation of mobile memory technology. Slated for adoption starting in 2015, LPDDR4 builds on the current generation of LPDDR3 technology and will deliver improved data rates up to 4.26 Gb/sec and use an ultra-low voltage core to reduce power consumption by approximately 35 percent to enhance performance in mobile devices like smartphones, wearables & tablets.
10/20/2014 | 117
Keysight Technologies, Inc. introduced the U4301B PCIe® protocol analyzer for engineers developing PCIe Gen3 systems. The U4301B supports all PCIe speeds from 2.5 GT/s (Gen1) through 8 GT/s (Gen3) and link widths from x1 through x16. The analyzer comes standard with analysis tools to validate PCIe LTSSM (link training and status state machine) processes, as well as NVM (non-volatile memory) Express and AHCI (advanced host controller interface) transactional protocol operations. New interposers support the latest storage devices that use SFF-8639 and M.2 connectors.
10/17/2014 | 115
Yokogawa Electric Corporation announces that it has greatly enhanced the FieldMate™ Versatile Device Management Wizard and will release R3.01 on October 17. FieldMate is a versatile software program for configuring, adjusting, and managing a wide variety of field devices used in factories and other production sites. Starting today, a trial version of R3.01 will be available on Yokogawa's website.
10/14/2014 | 170
When electronica 2014 opens its doors to an international audience in Munich this November, Rohde & Schwarz will naturally be there. The Munich-based company is using the home advantage to showcase its extensive portfolio of test and measurement equipment.
10/08/2014 | 164
NI (Nasdaq: NATI), the provider of solutions that enable engineers and scientists to solve the world's greatest engineering challenges, announced the industry's widest bandwidth high-performance 26.5 GHz microwave vector signal analyzer (VSA) and a fast tuning 20 GHz continuous wave signal generator. The two new instruments complement the extensive NI modular instruments offering and expand the measurement capabilities of the PXI platform.
10/06/2014 | 166
Anritsu Company breaks new ground in field wireless test with the introduction of the MW82119B PIM Master™, which combines a 40W, battery-operated PIM analyser with a 2 MHz to 3 GHz cable and antenna analyser, eliminating the need to carry multiple instruments to measure the RF performance of a cell site. The MW82119B provides tower and maintenance contractors, network installers, and wireless service providers with the first handheld field passive intermodulation (PIM) analyser with line sweep capability so they can fully certify cell site cable and antenna systems.
10/01/2014 | 121
Keysight Technologies, Inc. announced the availability of new signal processing firmware for its family of U53xxA PCIe digitizers. The new firmware (option -TSR) allows simultaneous capture and transfer of acquired data in triggered applications.
09/26/2014 | 132
The R&S HMC804x power supplies developed by Rohde & Schwarz subsidiary HAMEG Instruments are equipped with one (R&S HMC8041), two (R&S HMC8042) or three (R&S HMC8043) channels. All models from this series deliver up to 100 W of power and are adjustable between 0 V and 32 V in steps of 1 mV. They also offer a range of attractive extra functions.
09/23/2014 | 146
Texas Instruments and the Texas Instruments (TI) Foundation recently made a combined $1.3 million in contributions to a variety of North Texas arts and culture organizations, continuing TI's commitment to help enhance the quality of life in its headquarters community.
09/10/2014 | 150
Yokogawa Electric Corporation announces the November release of Energy Performance Analytics (EP-Analytics), a software tool that uses energy performance indicators (EnPI) to track how energy is being consumed in a plant, identifies gaps between EnPI targets and actual performance, and helps to identify countermeasures to improve energy performance. The EP-Analytics software is powered by the Visual MESA™ energy management and optimization solution.
09/08/2014 | 119
Keysight Technologies, Inc. today announced it will demonstrate a wide range of new, high-performance flexible test solutions at the European Microwave Week 2014, Oct. 7-9, Rome, Fiera di Roma, Booth F100. The test solutions are used by engineers for designing and testing components for radar systems, antennas and next-generation wireless devices.
09/03/2014 | 138
Anritsu Company has received the 2014 Frost & Sullivan Customer Value Leadership Award in the Global Field RF Testing market, recognizing Anritsu's position as a preeminent supplier of test solutions used in the deployment, installation, and maintenance of wireless networks. Frost & Sullivan, a leading global research organization, cited Anritsu's focus on innovation and customer centricity, as well its industry-leading portfolio of handheld field solutions in presenting Anritsu with the award.
09/01/2014 | 131
Rohde & Schwarz is the first company that offers a solution for analyzing DOCSIS 3.1 signals. Cable TV network operators and manufacturers of cable TV network components can use the R&S DSA DOCSIS snapshot analysis software and the R&S FSW high-end spectrum analyzer to carry out performance measurements. The software makes it possible to quickly and reliably characterize downstream signals of up to 192 MHz.
08/27/2014 | 162
FLIR Systems, Inc. (NASDAQ: FLIR) announces that the FLIR ONE™ thermal imaging accessory for smartphones will be available tomorrow for pre-order online at FLIR.com/FLIRONE. The award-winning FLIR ONE is a lightweight accessory that transforms an iPhone 5 or 5s into a powerful thermal imager. When paired with its iPhone app, FLIR ONE displays live infrared imagery that allows the user to see the world from a thermal perspective. FLIR ONE will also be available to buy in Apple Stores and on Apple.com in August.
08/25/2014 | 135
The CompactRIO performance controller integrates an Intel® Atom™ processor and Xilinx Kintex-7 FPGA technology for improved performance and easier system integration.
08/20/2014 | 256
The USB 3.1 Specification adds a SuperSpeed USB 10Gbps speed mode that uses a more efficient data encoding and will deliver more than twice the effective data through-put performance of existing SuperSpeed USB over enhanced, fully backward compatible USB connectors and cable. The specification extends the existing SuperSpeed mechanical, electrical, protocol and hub definition while maintaining compatibility with existing USB 3.0 software stacks and device class protocols as well as with existing 5Gbps hubs and devices and USB 2.0 products.
08/18/2014 | 142
Keysight Technologies, Inc. announced two additions to its Signal Studio software suite of signal creation tools. The first is signal generation software for the IEEE 802.15.4g-based Wi-SUN standard. The second is support for LTE/LTE-Advanced uplink (UL) 2x2 MIMO with real-time Hybrid Automatic Repeat Request (HARQ). These new capabilities further ease the signal generation requirements for R&D and manufacturing engineers developing or testing the conformance of devices to the Wi-SUN and LTE/LTE-A standards.
08/13/2014 | 171
At ATC Global 2014, Rohde & Schwarz will showcase its R&S VCS-4G IP based voice communications system. It serves as the core component for establishing virtual control centers, ensuring flexible and failsafe air traffic control (ATC). Another highlight to be presented by the expert in secure ATC communications will be an innovative feature allowing the detection of simultaneous transmissions in stationary VHF/UHF radios.
08/11/2014 | 182
Anritsu announced the launch of the new MT1000A Network Master Pro, marking the arrival of a new generation of all-in-one optical network field testers which support the multiple communications protocols used in today's converged telecom networks.
08/06/2014 | 138
Ever wonder what happens when you get five of the biggest wireless industry influencers in one room? Wonder no more – they'll all be at this year's RF and Wireless Summit, where industry experts from around the world meet to discuss the future of RF and wireless test and prototyping next-generation 5G communication systems.
08/04/2014 | 142
Tektronix, an industry-leading innovator of video quality monitoring solutions, announced that its customer Globosat, the largest pay TV provider in Latin America and market leader in Brazil, will use the Tektronix WVR8300 Waveform Rasterizer as part of its comprehensive effort to ensure that the image quality of its 4K broadcast of the 2014 FIFA World CupTM is as flawless as possible. Its audience comprises 49 million viewers distributed among more than 16 million households in the country.
07/30/2014 | 145
The use of Ethernet technologies in vehicles has been intensively discussed for years in the automotive industry. BroadR-Reach technology is a cost-effective solution for high-speed data transfer. Rohde & Schwarz addresses test requirements during integration by offering a new compliance test software option for the powerful R&S RTO oscilloscope.
07/28/2014 | 148
Agilent Technologies, Inc. (NYSE: A) reinforced its position as an innovator in atomic spectroscopy with the introduction of the Agilent 5100 Inductively Coupled Plasma - Optical Emission Spectrometer (ICP-OES). The new system enables customers to run samples faster, using less gas and without compromising performance on even the toughest samples. The new instrument is ideal for labs doing food, environmental and pharmaceuticals testing as well as mining and industrial applications.
07/23/2014 | 136
Anritsu A/S, a global provider of Operations Support Systems (OSS) for advanced and converged networks, announced that its MasterClawTM Service Assurance system has been selected by Jasper Wireless, the leading platform powering the mobile Internet of Things.
07/21/2014 | 157
NI, the provider of solutions that enable engineers and scientists to solve the world's greatest engineering challenges, announced the company will partner with TechShop, a membership-based, do-it-yourself workshop and fabrication studio with locations nationwide. NI will provide product training and outfit two TechShop electronics labs with NI technology, including LabVIEW system design software and myRIO, myDAQ and VirtualBench hardware.
07/16/2014 | 210
Maximum flexibility, top performance and intuitive operation – these outstanding characteristics are now also available to users of the microwave range when generating complex multichannel scenarios. The R&S SMW200A makes it possible for the first time to generate two wideband signals with any type of modulation up to 20 GHz using a single device. Even fading and MIMO scenarios can be configured over the entire frequency range. The upgrade to 20 GHz especially addresses users in the wireless communications and aerospace & defense industries.
07/14/2014 | 140
Agilent Technologies Inc. (NYSE: A) introduced a family of basic AC power sources that deliver stable, reliable power for testing electronic devices during design and manufacturing. The new Agilent AC6800 Series includes four models from 500 to 4000 VA output power, all with the quality and capability required for basic testing.
07/09/2014 | 135
Tektronix the market leader in broadcast video test, monitoring and analysis solutions, announced the addition of significant new monitoring capabilities to its award-winning Sentry family of digital content monitors. These new capabilities will enable cable operators, broadcasters and other video service providers (VSPs) to comply with new Closed Captioning regulations, to better identify audio issues – including overly loud commercials – and to ensure the quality of their OTT and TV Everywhere services.
07/07/2014 | 136
Anritsu Company, a global leader in microwave and RF test solutions, announces a partnership with Elliptika to create Eductika, an original and innovative microwave teaching kit for students at colleges and universities. Anritsu's VNA Master™ series of handheld vector network analyzers is part of the complete turnkey solution that can be used by professors to teach the fundamentals of RF and microwave technologies.
07/02/2014 | 143
Agilent Technologies Inc. (NYSE: A) introduced a multi-channel antenna calibration Reference Solution for calibrating and characterizing large, multi-channel phased-array antennas during integration and manufacturing. This is the second in a series of modular-based Reference Solutions, a new concept introduced by Agilent earlier this year, consisting of essential test system components, including hardware, software and measurement expertise.
06/30/2014 | 124
With the addition of the new R&S®SGU100A RF upconverter, Rohde & Schwarz expands its tried and tested R&S®SGS100A vector signal generator to cover microwave applications. The combination of the two instruments yields the most compact vector signal source on the market with up to 20 GHz. The R&S®SGU100A is available as a pure CW upconverter or as an upconverter for I/Q-modulated signals.
06/25/2014 | 139
FSMLabs and Spectracom announces a new partnership to address the most complex synchronization challenges for time-sensitive network operations. As the first step, Spectracom has announced a 10 gigabit-per-second high-accuracy network clock that integrates FSMLabs software with its GPS timing technology and high speed network interfaces. This combination sets a new standard for network performance and dependability in critical enterprise network applications.
06/18/2014 | 138
Tektronix, Inc., the world's leading manufacturer of oscilloscopes, announced that a new Method of Implementation (MOI) leveraging a fully automated compliance test and debug solution for the recently released HDMI 2.0 specification has been approved by the HDMI forum as the official compliance solution. The Tektronix solution provides comprehensive coverage of the required HDMI 2.0 transmitter and receiver electrical PHY tests to ensure consistent interoperability between suppliers in this fast-growing industry.
06/16/2014 | 153
Agilent Technologies Inc. (NYSE: A) and Cerno Bioscience announced that Agilent will distribute Cerno Bioscience's MassWorks calibration and analysis software with all Agilent GC/MSD systems. This novel calibration technology increases the mass accuracy of Agilent's single-quadrupole GC/MSD to enable unknown compound identification. This process normally requires more complex instruments, such as time-of-flight (TOF) mass spectrometers.
06/09/2014 | 162
Combination of Test Set, Dual Source and DifferentialView Creates Test Solution with Most Advanced Capabilities for Measuring Differential Devices
06/04/2014 | 168
Manufacturers of consumer and professional electronics as well as cable network operators can now generate signals in line with the new transmission standard. Simulating a cable TV network with full channel loading, the R&S®CLGD DOCSIS cable load generator from Rohde & Schwarz implements digital and analog channels even in realtime and allows users to simulate any conceivable channel loading scenario.
06/02/2014 | 145
Agilent Technologies Inc. (NYSE: A) announced the availability of inverted light microscope (ILM) and scanning tunneling microscope (STM) capabilities for the recently introduced Agilent 7500 atomic force microscope platform.
05/28/2014 | 169
New BSA286CL Offers the Industry's Broadest Precision Jitter Impairment Capabilities with Exceptionally Low Intrinsic Jitter Levels.
05/26/2014 | 159
NI and Nokia will increase 5G wireless network capacity and data throughput.
05/21/2014 | 156
New Clock Recovery Function Options for MP1800A Signal Quality Analyzer (SQA) Allows a 32 Gbit/s High-Sensitivity Bit Error Rate (BER) Testing with a Single Instrument.
05/19/2014 | 159
High-power FM Transmitter R&S®THR9, manufactured by Rohde & Schwarz, is the recipient of two of the industry's most prestigious technology honors, NewBay Media's Best of Show Award, presented at the 2014 NAB Show in Las Vegas by Radio World and Radio Magazine.
05/14/2014 | 168
Agilent Technologies Inc. (NYSE: A) introduced two new high-performance portable oscilloscope series deploying next-generation oscilloscope technology. The Infiniium S-Series sets a new standard for signal integrity for bandwidths up to 8 GHz, while the InfiniiVision 6000 X-Series sets a new standard for price/performance with bandwidths up to 6 GHz.
05/12/2014 | 251
Texas Instruments (TI) Incorporated was recognized among the world's 100 best corporate citizens by Corporate Responsibility (CR) Magazine, ranking 31st, up from 38th last year on the magazine's 15th-annual 100 Best Corporate Citizens List. This is the 12th time TI has received this honor.
05/09/2014 | 296
New model 5511A with large round head is designed specifically for cutting plastic cable ties in avionics manufacturing. It's an excellent cutter for avionics wire harness cutting.
05/07/2014 | 160
Tektronix, Inc., the world's leading manufacturer of oscilloscopes, announced that it has extended the capabilities of the analysis system on its MSO/DPO70000 Series of Digital and Mixed Signal Oscilloscopes to include modeling of on-chip silicon behavior using IBIS-AMI models and S-parameters. This significantly improves correlation between measurement and simulation for faster, more accurate characterization of on-chip silicon behavior and performance for today's mobile, enterprise, and data communication standards.
05/05/2014 | 259
NI (Nasdaq: NATI) has added the capability to use LabVIEW system design software to program the LEGO MINDSTORMS EV3 robotics platform. The LabVIEW Module for LEGO MINDSTORMS, a free download, is available for education and retail. The software helps students, engineers and hobbyists alike create programs that communicate with and control the EV3 brick with LabVIEW. Because LabVIEW has connectivity with thousands of sensors, devices and systems, users of all experience levels can quickly design complex and powerful robotics projects, which makes this platform ideal for science, technology, engineering and math (STEM) education.
04/30/2014 | 177
Rohde & Schwarz presents its ISDB-TB encoding and multiplexing products. These products enhance the company's transmitter and T&M equipment portfolio, which has supported the Latin American standard for many years.
04/28/2014 | 166
Agilent Technologies Inc. (NYSE: A) announced it will demonstrate its latest PXI Functional Test System, plus boundary scan and latest inline in-circuit test systems, at NEPCON EMT China 2014 (Booth 1G60), April 23-25, at the Shanghai World Expo Exhibition & Convention Center.
04/25/2014 | 172
Anritsu Corporation has announced that the company's ME7873L RF Conformance Test System has become the world-first GCF approved test system to achieve the key milestone of more than 80% test cases supporting Japanese (Band 1-18, Band 1-26), and US (Band 4-13) frequency band combinations for Carrier Aggregation.
04/23/2014 | 184
National Instruments (Nasdaq: NATI) announced an integrated software defined radio solution for rapidly prototyping high-performance, multichannel wireless communication systems. The NI USRP RIO platform is built on the NI LabVIEW RIO architecture and combines a high-performance 2 x 2 multiple input, multiple output (MIMO) RF transceiver capable of transmitting and receiving signals from 50 MHz to 6 GHz with an open LabVIEW programmable FPGA architecture.
04/14/2014 | 182
Agilent Technologies Inc. (NYSE: A) expanded the world's most flexible PNA-X family of network analyzers with an 8.5 GHz model that more economically supports lower-frequency devices used in wireless communication applications (e.g., handsets, base stations, WLAN and other mobile communication devices).
04/09/2014 | 165
Rohde & Schwarz expands its IT security portfolio and invests in a strong growth market by acquiring the Leipzig-based producer of network security solutions. The comprehensive expertise of Adyton Systems is an advantageous addition to the existing Rohde & Schwarz portfolio, strengthening the electronic expert's presence in the network security segment.
04/07/2014 | 163
Tektronix, an industry-leading innovator of video quality monitoring solutions, announced that it will be offering broadcasters attending the 2014 NAB Show a technology demonstration of its 4k-upgraded WFM8300 Waveform Monitor with UHDTV1 (3840x2160) content. The demonstration, which will take place at booth number N5223, illustrates how Tektronix protects investments by giving customers a direct upgrade path without the need to replace existing products.
04/04/2014 | 163
Anritsu Company introduces TETRA analyzer and TETRA coverage mapping options to its industry-leading LMR Master™ S412E handheld analyzer. Combining the LMR Master's best-in-class performance and compact durable design with the new TETRA measuring and analysis tools makes the handheld analyzer the most comprehensive test solution for deploying, installing, and maintaining public safety, transportation, utility and critical communication networks, including those utilizing the TETRA technology.
03/31/2014 | 157
Agilent's Passive Network Monitoring Systems offer a highly scalable monitoring and processing portfolio that effectively processes both voice and data completely independent of the telecom network elements. These systems allow legally authorized users to identify and extract communications of interest and provide accurate location information, correlate voice and data selectors, and provide advanced filtering and selection for multiple 10GbE and legacy communications links.
03/26/2014 | 144
The CISPR 35 EMC standard that prescribes future disturbance signal testing requirements for multimedia equipment is expected to be adopted this spring. The new CISPR 35 will combine the current test standards for devices and components in the IT (CISPR 24) and consumer electronics (CISPR 20) fields. Rohde & Schwarz, leading supplier of EMC T&M equipment, will release the R&S EMC32-K35 option for its R&S EMC32 EMC test software when the standard is adopted.
03/24/2014 | 156
The NI PXIe-4139 provides 100X faster sampling rate with at least twice the channel density of similar box instruments.
03/19/2014 | 156
Anritsu Company introduces an internal atomic clock option for its MS2720T Spectrum Master handheld spectrum analyzer that allows users to acquire excellent frequency accuracy, including in environments in which the GPS cannot be used. Integrating the atomic clock inside the MS2720T provides field engineers and technicians with a durable, handheld spectrum analyzer that can deliver the extremely high accuracy necessary to prove regulatory compliance.
03/17/2014 | 318
Tektronix, Inc., the world's leading manufacturer of oscilloscopes, announced protocol decode solutions for a number of interfaces adopted by Mobile industry including USB 3.0 SuperSpeed Inter-Chip (SSIC) and RF Front-End Control interface (RFFE) along with the industry's first electrical testing and decode solution for the High Speed Synchronous Interface (HSI). Many of these interface use PHYs which are conformant with MIPI® Alliance specifications.
03/12/2014 | 150
Agilent Technologies Inc. (NYSE: A) announced that its 89600 VSA software has been enhanced with custom IQ modulation analysis. The analysis capability speeds time to insight by allowing R&D engineers to more easily test proprietary signals for satellite and military communication applications.
03/10/2014 | 165
R&S RTE digital oscilloscopes offer fast and reliable solutions for everyday T&M tasks such as embedded design development, power electronics analysis and general debugging. Users benefit from features such as high sampling and acquisition rates and good signal fidelity. A comprehensive set of measurement and analysis tools deliver fast results and the high-resolution touchscreen makes the R&S RTE very easy to use.
03/05/2014 | 158
National Instruments (Nasdaq: NATI) announced the NI PXIe-5646R vector signal transceiver with 200 MHz of RF bandwidth, making it ideal for testing the latest wireless standards such as IEEE 802.11ac, 160 MHz WLAN and LTE Advanced. Engineers can use the open software design of the vector signal transceiver to develop channel emulation systems, radio prototyping, custom real-time signal processing for spectrum analysis and many other applications.
03/03/2014 | 152
Anritsu Corporation has announced the successful demonstration of the Intel® XMM™ 7260 device platform achieving LTE-Advanced Category 6 data rates of concurrent 300 Mbps downlink and 50Mbps uplink with carrier aggregation technology, using the Anritsu MD8430A/RTD development test environment.
02/28/2014 | 156
Tektronix, Inc., the world's leading manufacturer of oscilloscopes, announced the MDO3000 Series of Mixed Domain Oscilloscopes. The ultimate integrated oscilloscope that includes a spectrum analyzer, logic analyzer, protocol analyzer, arbitrary function generator and digital voltmeter, the MDO3000 clears the design bench of costly, specialized equipment and provides the tools needed to test and debug virtually any embedded design. In addition, Tektronix has developed the MDO3000 to be completely customizable enabling customers to select the functionality and performance needed now -- and later.
02/24/2014 | 150
Agilent Technologies Inc. (NYSE: A) introduced SureCall version 2.0 software, expanding the capabilities of the company's current market-leading, next-generation sequencing target-enrichment solutions. The newly upgraded software features compatibility with SureSelect custom target-enrichment and Human All Exon panels.
02/19/2014 | 221
Rohde & Schwarz has integrated realtime digital predistortion into its R&S SMW200A high-end vector signal generator. Predistortion can extend the operating range of amplifiers but determining the right correction factors has always been a time-consuming process.
02/17/2014 | 157
National Instruments (Nasdaq: NATI) released its Automated Test Outlook 2014, highlighting the company's research into the latest test and measurement technologies and methodologies. Engineers and managers can use the report, which examines trends affecting a wide range of industries, to take advantage of the latest strategies and best practices for optimizing any test organization.
02/12/2014 | 162
Microwave Site Master™ S820E Continues Wireless Handheld Test Leadership Position Anritsu Established More Than 15 Years Ago.
02/10/2014 | 167
Agilent Technologies Inc. (NYSE: A) introduced the E5063A PCB Analyzer for printed circuit board impedance test in manufacturing. The solution offers technology breakthroughs in accuracy and repeatability and reproducibility (R&R). The analyzer also provides a dedicated user interface with broader language support, and more robustness against electrostatic discharge for PCB manufacturing environments.
02/05/2014 | 174
Rohde & Schwarz has once again expanded the analysis bandwidth for its R&S FSW high-end signal and spectrum analyzers. In the past, 320 MHz was considered an excellent value. Rohde & Schwarz is the first company to offer analysis bandwidth of 500 MHz.
02/03/2014 | 208
Tektronix, Inc., the world's leading manufacturer of oscilloscopes, announced expanded capabilities for its industry leading M-PHY Receiver test solution. The additional capabilities include physical layer receiver testing for High Speed Gear2 and Gear3, support for PWM Mode (G0-G7), auto-calibration and margin testing.
01/29/2014 | 166
Anritsu announced that Chalmers University in Sweden has selected Anrtisu's ME7838A broadband mm-wave test system to provide measurements supporting the development of new, high-frequency devices and components.
01/27/2014 | 220
Agilent Technologies Inc. (NYSE: A) announced the E8486A waveguide power sensor. Designed with a WR-12 flange connector, the E8486A makes precise and accurate power measurements in the E-band spectrum of 60 to 90 GHz, making the sensor the ideal solution to meet the rapid demand in E-band telecommunication applications.
01/22/2014 | 187
FORTUNE Magazine named National Instruments (Nasdaq: NATI) among the 100 Best Companies to Work For in the nation for the 15th consecutive year. NI ranks #66 for 2014, a testament to NI's commitment to its 100-year plan and culture.
01/20/2014 | 178
Aggregator ICs from Texas Instruments reduce cable interconnect costs, power consumption and development time for serial link-based systems.
01/15/2014 | 191
Rohde & Schwarz continues to expand its oscilloscope portfolio for various fields of application. The T&M specialist will showcase many highlights in hall 4, booth 4-611 at the Exhibition Centre, Nuremberg.
01/06/2014 | 277
New TechZones Eureka Park: NEXT and Academia Tech to highlight mid-stage startups and innovation from colleges and universities.
01/03/2014 | 295
The most prominent and influential authors in the technology industry will be featured at the 2014 International CES® as part of a new CES attraction entitled Gary's Book Club. Owned and produced by the Consumer Electronics Association (CEA)®, the 2014 CES, the world's gathering place for all who thrive on the business of consumer technologies, will run Tuesday, January 7-Friday, January 10, 2014 in Las Vegas, Nevada.
12/30/2013 | 268
Conferences, exhibits and TechZones to feature emerging tech trends.
12/25/2013 | 236
Agilent Technologies Inc. (NYSE: A) introduced MassHunter Profinder software designed for batch processing of complex mass spectrometric data. The latest member of the MassHunter software family, MassHunter Profinder transforms chemometric peak-finding workflows with enhanced batch processing, robust re-mining and alignment capabilities.
12/23/2013 | 271
AT&T Senior Executive Vice President John Donovan, Ericsson President and CEO Hans Vestberg, and Qualcomm Chairman and CEO Paul Jacobs to Keynote on Mobile Innovation at 2014 International CES.
12/18/2013 | 359
At NIWeek 2013, National Instruments unveiled a new operating system: NI Linux Real-Time. Between the keynote, NIWeek sessions, and media coverage, it's evident that the release of this new real-time operating system (RTOS) is a significant milestone. Never mind the more than 60 man-years of engineering effort poured into the OS nor the joyous uproar from veteran users of NI's embedded platform—in this feature, you will learn what this development means for you and will have a chance to participate in the contagious excitement around NI Linux Real-Time.
12/16/2013 | 173
Rohde & Schwarz has expanded the functionality of its R&S FSV and R&S FSW signal and spectrum analyzers to also support the IEEE 802.11p wireless standard. The new R&S FSV-K91p and R&S FSW-K91p measurement options are especially designed for IEEE 802.11p compliant signal analysis in vehicle-to-vehicle (V2V) applications and intelligent transport systems (ITS).
12/11/2013 | 189
Agilent Technologies Inc. (NYSE: A) announced the availability of its 7500 atomic force microscope (AFM), a highly advanced instrument that establishes new performance, functionality and ease-of-use benchmarks for nanoscale measurement, characterization and manipulation. The Agilent 7500 achieves atomic resolution imaging with its 90 m AFM closed-loop scanner.
12/09/2013 | 246
Spectracom's GSG-L1 GPS Simulator is nearing end-of-life and has been replaced by GSG-51 and the GSG-5 Series GNSS Simulators. Last-time buy orders for the model GSG-L1 will be accepted until January 31st 2014, for delivery on or before June 30th, 2014.
12/04/2013 | 210
The enhanced MP1800A is suitable for testing the backplanes, cables, and interconnects used in the next generation of ultra-high speed network equipment.
12/02/2013 | 173
Manufacturers of automotive electronics need test solutions that can also specifically distribute large current loads. Until now they have used specially developed, expensive power switching devices to do this. Rohde & Schwarz introduces a configurable power switching module that is fully integrated into the PXI-based R&S TSVP test system. It replaces auxiliary switching devices and is suitable for loads up to 30 A.
11/29/2013 | 202
The NI LabVIEW 8 DSC Module directly adds logging, alarming, scaling, and initial value functionality to the new LabVIEW shared variable. National Instruments LabVIEW 8 delivers distributed intelligence as a unified communication and management platform for the rapid development of distributed applications. The NI LabVIEW 8 Datalogging and Supervisory Control (DSC) Module specifically addresses the unique requirements of developing distributed industrial measurement and control applications and high-channel-count monitoring applications.
11/27/2013 | 181
Compact System Provides Simple, Walk-Up Performance for Applied Chemistry Research, Drug Discovery, Food Science, Metabolomics.
11/20/2013 | 280
Ecovacs Robotics, Inc announced that it has been named an International CES Innovations 2014 Design and Engineering Awards Honoree for the WINBOT. Products entered in this prestigious program are judged by a preeminent panel of independent industrial designers, independent engineers and members of the trade media to honor outstanding design and engineering in cutting edge consumer electronics products across 29 product categories.
11/18/2013 | 176
New Functionality for MT9090A Network Master™ µOTDR Module™ Brings Higher Level Analysis of Fiber Cables to Field Technicians.
11/15/2013 | 164
Rohde & Schwarz has enhanced its R&S CMW500 wideband radio communication tester with new options for RF tests and end-to-end testing of LTE-Advanced carrier aggregation. This is the only one-box solution on the market that allows RF tests with two component carriers in the downlink, including 2x2 and 4x2 MIMO.
11/11/2013 | 180
Agilent Technologies Inc. (NYSE: A) introduced the 850-DS Dissolution Sampling Station for centralizing laboratory workflow of sample transfer, filtration and collection. By managing unattended dissolution sampling and automated sample archiving for future HPLC or UV analysis, the 850-DS frees up analysts' time while eliminating errors associated with manual sampling.
11/08/2013 | 189
Continuing its commitment to innovations that help make the world safer, Texas Instruments Incorporated (TI) (NASDAQ: TXN) is introducing three new DaVinci™ video processors, the DM388, DMVA3 and DM383, for next-generation camera needs. With TI's DM388 video processor, security manufacturers can leverage superior low-light technology to produce clear image quality, even in extreme low light environments.
11/04/2013 | 178
The R&S FSW67 from Rohde & Schwarz is a new high-end signal and spectrum analyzer with unique features: a frequency range up to 67 GHz, plus an integrated preamplifier up to 67 GHz and an analysis bandwidth as high as 320 MHz. The analyzer helps developers perform complex measurement tasks in the microwave range for aerospace & defense applications and wireless communications.
10/28/2013 | 238
Agilent Technologies Inc. and the University of Washington announced they will work together to upgrade a laboratory in the school's Electrical Engineering Department with the industry's latest electronic test equipment.
10/23/2013 | 187
The new frequency range is an addition to the already existing range from 0.8 GHz to 3.0 GHz. Thanks to their state-of-the-art design, the amplifiers, which have been optimized for high frequencies, deliver high output power, and are still compact and lightweight. The modularity of the amplifiers makes it possible to configure complete systems flexibly to meet user requirements. The state-of-the-art amplifier design yields up to 200 W of output power in just four height units. The broadband amplifiers feature outstanding mismatch tolerance and can handle both short-circuiting at the RF end and an open RF output. This reduces both downtime and costs.
10/21/2013 | 250
From connected glasses to health monitoring devices, FashionWare, a new lifestyle-focused exhibit at the 2014 International CES® produced in partnership with Living in Digital Times, will showcase the latest innovations in wearable technology that mix fashion and function. The 2014 CES, produced by the Consumer Electronics Association (CEA) ®, is the world's gathering place for all who thrive on the business of consumer technologies, and will run from January 7-10, 2014 in Las Vegas, Nevada.
10/16/2013 | 180
Texas Instruments (TI) (NASDAQ: TXN) introduced the industry's first digital current sensor and voltage monitor with simultaneous sampling and SPI interface. The LMP92064 integrates a precision current sense amplifier and two 12-bit analog-to-digital converter (ADC) channels that simultaneously capture voltage and current data, while the SPI interface transfers real-time data at up to 20 MHz. This enables the device to provide the highest precision power calculations of any device on the market today. The LMP92064 is used in applications where precise power monitoring is crucial, such as communications infrastructure applications, including telecom, servers and central office equipment.
10/14/2013 | 245
The Institute of High Frequency Technology (IHF) at RWTH Aachen integrated Anritsu measurement equipment into the RCS measurement setup of their compact range and succeeded in measuring the radar cross section of a reference target at 77 GHz for Continental, Business Unit ADAS
10/09/2013 | 197
Agilent Technologies Inc. (NYSE: A) introduced a line of frequency-extension modules from Virginia Diodes Inc. (VDI), a company that designs, manufactures and sells millimeter-wave and terahertz devices, components and systems, for its signal generators and analyzers.
10/07/2013 | 201
The Consumer Electronics Association (CEA)® announced MotionTech, the newest TechZone at the 2014 International CES®. Owned and produced by CEA, the 2014 CES is the world's gathering place for all who thrive on the business of consumer technologies, scheduled to run January 7-10, 2014 in Las Vegas, Nevada.
10/02/2013 | 221
Tektronix, Inc., the world's leading manufacturer of oscilloscopes, announced expanded testing support for both short range and long haul 100G optical network testing. Debuting at the European Conference on Optical Communications Sept. 23-26 in London are the 80C15 32GHz Multi-Mode Optical Sampling Module and the OM5110 46GBaud Multi-format Optical Transmitter, giving customers enhanced capability to test silicon photonic components, network elements and systems as well as the coherent modulation formats used in next generation optical fiber networks.
09/30/2013 | 232
Leading Growth Partnership Company Cites Advanced Features, Durability and Reliability in Recognizing Anritsu Site Master™ Cable and Antenna Analyzers.
09/25/2013 | 229
At AUTOTESTCON 2013 RADX Technologies, Inc., introduced the RADX LibertyGT™ family of commercial, off-the-shelf (COTS) Software Defined Synthetic Instrument (SDSI) solutions. LibertyGT solutions combine RADX COTS Realtime Measurement Science Software and Firmware modules with pre-configured NI PXI systems and NI LabVIEW system design software. This combination is ideal for system integrator and volume end-user application development.
09/23/2013 | 240
Product Enables Accurate Characterization of Receivers Used in Servers, Storage Systems and Data-Center Networks.
09/18/2013 | 231
New MS4640B, Featuring PulseView™ and DifferentialView™, Addresses Challenges Associated with Testing and Characterizing Radar and High-speed Serial Designs
09/16/2013 | 220
Rohde & Schwarz has reached a milestone in the introduction of voice over LTE telephony for the IP multimedia subsystem (IMS). The T&M specialist has verified the world's first test cases for IMS emergency calls over EPS/EUTRA in compliance with GCF Work Item 154.
09/11/2013 | 276
Cal-Bay Systems is a leader in comprehensive, automated test and measurement processes based on NI technology platforms. Recently, we have teamed with Lawrence Berkeley National Laboratory (LBNL) to provide test, validation, and measurement equipment for the US Department of Energy's new Facility for Low Energy Experiments in Buildings, or FLEXLAB. The facility will provide researchers, manufacturers, developers, architects, engineers, contractors, and utilities the tools to accurately field-test innovations in green building technologies and controls.
09/04/2013 | 217
Agilent Technologies Inc. (NYSE: A) and Tyndall National Institute at University College Cork officially opened a new laboratory for research and teaching in next-generation wireless communications. This state-of-the-art laboratory at Tyndall will enable advanced training and research on radio frequency integrated circuits for high-speed wireless data communications for video applications and contactless sensors for biomedical and security applications.
09/02/2013 | 293
The new R&S BTC broadcast test center from Rohde & Schwarz provides a complete testing environment for nearly all audio, video and multimedia applications – in a single device. The RF reference signal generator generates RF signals for all global TV and broadcasting standards and simulates transmissions. The generator can also internally analyze the audio/video functions of DUTs in realtime. The modular design provides a high degree of scalability, allowing the R&S BTC to be configured for any customer requirement.
08/28/2013 | 262
Highly efficient, three-phase motor control expertise, once only obtainable to a niche market of motor designers, is now available to a wider audience of developers. Texas Instruments (TI) (NASDAQ: TXN) brings its revolutionary InstaSPIN-FOC™ (field-oriented-control) sensorless motor control technology to its most affordable, real-time-control C2000™ Piccolo™ F2802x microcontrollers (MCUs) series, offering a smaller package size and much lower cost.
08/26/2013 | 229
The new Keithley Model 2450 Touchscreen Source Measure Unit (SMU) Instrument is ideal for I-V functional test and characterization of a wide range of today's modern electronic devices, including scaled semiconductors, nano-scale devices and materials, organic /printed electronics and other current and voltage testing applications.
08/21/2013 | 205
Agilent Technologies Inc. (NYSE: A) announced the availability of scanning microwave microscopy (SMM) capabilities for its premier-performance atomic force microscope, the 5500 AFM. Agilent's second-generation SMM nose cone makes this unique electrical measurement option compatible with the 5500 system.
08/19/2013 | 225
Building upon its robust embedded processing software and tools ecosystem, Texas Instruments (TI) (NASDAQ: TXN) announced a new class of JTAG emulator, the XDS200 for $295. This new emulator can be utilized for hardware debugging, algorithm development and programming on TI's embedded processors. Providing a great balance of cost and performance, the XDS200 emulator fits in the overall TI emulator portfolio between the entry-level XDS100 JTAG emulator and the XDS560v2 JTAG emulator with system trace receiver. XDS200 JTAG emulators support a USB connection to the host computer and work with 32- and 64-bit versions of Microsoft Windows and Linux operating systems.
08/14/2013 | 221
Rohde & Schwarz has expanded its successful R&S ESR family by adding a model for up to 26.5 GHz. This means that high measurement speeds and comprehensive diagnostic tools are now also available for EMC certification testing in line with the FCC standard and measurements in line with military standards.
08/12/2013 | 225
The new NI cRIO-9068 software-designed controller is part of the most advanced and open system design platform for embedded control and monitoring systems.
08/07/2013 | 234
Agilent Technologies Inc. (NYSE: A) announced the industry's first MIPITM M-PHY physical layer receiver and transmitter tests with switch automation. The tests are designed to accelerate the turn-on and debug of MIPI M-PHY-based systems and to provide design engineers an efficient way to ensure their M-PHY devices will interoperate with the application processor.
08/05/2013 | 245
Atmel® Corporation (NASDAQ: ATML), a global leader in microcontroller and touch technology solutions, announced the availability of a new maXTouch® family to enable single-layer shieldless designs in automotive center stacks, navigation systems, radio interfaces or rear seat entertainment systems. Atmel's mXT336S is optimized for 7-inch touchscreens, while the mXT224S targets smaller touchscreens and touchpads.
08/02/2013 | 214
Starting in the lab, developers must perform extensive tests on the receivers and components used in satellite-based navigation systems, such as testing location based services on smartphones, car navigation units and aircraft control systems. The R&S SMBV100A from Rohde & Schwarz now offers valuable support. New options expand the range of functions of its GNSS simulator by adding a series of realistic scenarios.
07/29/2013 | 252
National Instruments announced NI LabVIEW software- and NI hardware-compatible mobile apps for iPhone, iPad and Android devices, helping engineers integrate the latest mobile technology into their applications. By combining the portability, ease of use, faster start-up time and longer battery longevity of mobile devices with the power of LabVIEW, engineers can more productively access measurement data from data acquisition and embedded monitoring systems.
07/24/2013 | 222
Agilent Technologies Inc. (NYSE: A) announced that Millitech Inc., a leading provider in millimeter-wave components, assemblies and subsystems for applications in satellite communications, radiometry, radar and remote sensing, has selected Agilent's Electromagnetic Professional (EMPro) and Advanced Design System (ADS) software for use in developing mixers, multipliers and various passive devices.
07/22/2013 | 246
R&S MR6000A software defined radios from the successful R&S M3AR product family are already in operation in many military airborne platforms. As part of the A400M program, the radios have now been optimized even further: They are currently the only airborne transceivers of their kind worldwide to meet civil aviation authorities' certification criteria.
07/17/2013 | 261
Tektronix, Inc., the world's leading manufacturer of oscilloscopes, announced a series of enhancements to its USB 3.0 test solutions including an industry first transmitter test solution for the SuperSpeedPlus 10 Gb/s specification. Other enhancements include a new USB 3.0 oscilloscope-based layered decode capability and an enhanced automated solution for SuperSpeed USB transmitter testing that improves test throughput by up to 60%.
07/15/2013 | 231
Join National Instruments and more than 3,200 engineers, educators, industry leaders, scientists, and students from around the world for NIWeek 2013, the 19th annual global conference on graphical system design.
07/10/2013 | 246
The U5340A enables customers to deploy advanced real-time signal processing into the FPGAs on board Agilent high-speed digitizers. The development kit leverages the full density and speed of the FPGA while ensuring the digitizer's outstanding multi-gigasample-per-second performance.
07/08/2013 | 247
A new measurement option from Rohde & Schwarz for the R&S FSW high-end signal and spectrum analyzer supports realtime signal analysis for frequencies up to 50 GHz with an analysis bandwidth of 160 MHz. This makes it possible to detect interfering signals to the exact level and without gaps – all using a single, extremely fast measuring instrument with outstanding RF characteristics.
07/03/2013 | 234
Texas Instruments Incorporated (TI) (NASDAQ: TXN) introduces its new SafeTI™ Compiler Qualification Kit. The SafeTI™ Compiler Qualification Kit assists customers in their efforts to qualify their use of the TI ARM® C/C++ compiler to functional safety standards such as IEC 61508 and ISO 26262 while helping maximize its functionality and performance. This kit, a component of the SafeTI design packages, was developed primarily for use with TI ARM Cortex-R4-based Hercules™ ARM microcontroller (MCU) platform to help make it easier for customers to develop functional safety applications.
07/02/2013 | 234
New world-first PTCRB test case approval, Anritsu's market-leading ME7873L RF Conformance Test System expand its approved support for LTE into the LTE-Advanced test market
07/01/2013 | 227
Agilent Technologies Inc. (NYSE: A) announced that its Integrated Circuits Characterization and Analysis Program (IC-CAP) software has been enhanced to provide full support for the B1505A Power Device Analyzer/Curve Tracer, including the instrument's new high-power, high-current source monitor unit modules.
06/26/2013 | 259
National Instruments announced its newest general-purpose programmable power supplies, which offer the highest power density available in PXI and form the foundation of automated test systems.
06/24/2013 | 216
Jitter measurements are important when developing circuits with serial high-speed data interfaces such as USB 2.0 and HDMI. One particular challenge is the signal's embedded clock that is used as a time reference. Rohde & Schwarz addresses this requirement with new options for its R&S RTO high-performance oscilloscope.
06/19/2013 | 227
Agilent Technologies Inc. (NYSE: A) announced a new analysis software suite for the U4611A, U4611B and U4612A family of USB protocol analyzers. The suite features the new MegaZoom technology, offering USB device designers quick and easy insight into their designs' behavior, and streamlining USB test and validation.
06/17/2013 | 271
Atmel® Corporation, a global leader in microcontroller and touch technology solutions, announced ASUS has selected Atmel's recently launched mXT2952 T and mXT1664T controllers to power the touchscreens for multiple new tablets and Ultrabooks including the newly launched Zenbook Infinity.
06/12/2013 | 286
With the introduction of the new R&S RTM series, Rohde & Schwarz has expanded the functional range of its bench oscilloscopes. The key upgrades are a 20 Msample deep memory and a logic analysis option with 16 digital channels. The smart operating concept of the new R&S RTM models ensures extreme ease of use.
06/10/2013 | 229
Agilent Technologies Inc. (NYSE: A) announced the availability of a high-performance AFM/Raman system for life science and materials science applications. The system seamlessly integrates the Agilent 6000ILM AFM (atomic force microscope) and a HORIBA XploRA INV (inverted Raman microscope). The combination enables researchers to go beyond the optical diffraction limit to achieve nanoscale resolution as they perform Raman spectroscopy.
06/05/2013 | 234
Texas Instruments Incorporated (TI) expanded its sensorless, brushless DC (BLDC) motor driver portfolio with a new device designed for high efficiency and low noise, which requires a low external component count of only one capacitor. The DRV10963 is a 5-V, 3-phase sensorless BLDC motor driver that simplifies layout and reduces board space by 80 percent, allowing designers to create smaller, sleeker, more innovative designs. It includes integrated commutation logic, which enables instant motor spin with no code development, while its 180-degree pure sinusoidal outputs provide an efficient and quiet drive.
06/03/2013 | 223
National Instruments announced Chameleon for NI CompactDAQ, a software package developed by NI Gold Alliance Partner PVI Systemsand available on the LabVIEW Tools Network, to create turnkey systems for NI data acquisition hardware that are simple and intuitive to set up and operate. These scalable systems can span to a large number of channels, yet still be managed within a configuration-based environment without programming.
05/29/2013 | 285
Rohde & Schwarz has increased the frequency range of its high-end R&S FSW signal and spectrum analyzer to 50 GHz. In conjunction with analysis bandwidths of up to 320 MHz, the new microwave model is perfect for sophisticated R&D measurements and for radar and satellite applications.
05/27/2013 | 228
Integrated MCU, memory and hardware security engine in silicon for scalable, simplified designs. Support for ZigBee Smart Energy™ and ZigBee Home Automation™ and ZigBee Light Link™ standards. Flexible development with standards-based ZigBee PRO, ZigBee IP, IEEE 802.15.4 and 6LoWPAN IPv6 networks.
05/22/2013 | 209
Agilent Technologies Inc. introduced an automated switching solution for testing each lane of a multilane digital bus interface. The automated switching solution works with Infiniium Series oscilloscopes and is available on compliance applications for multilane buses, including DisplayPort, HDMI, PCI-Express® and MIPI™ D-PHY and M-PHY interfaces.
05/20/2013 | 197
Altera Corporation announced it has signed a definitive merger agreement to acquire Enpirion, Inc., the industry's leading provider of high-efficiency, integrated power conversion products known as PowerSoCs (power system-on-chip). The combination of Altera's FPGAs with Enpirion'sPowerSoCs will offer customershigher performance, lower system power, higher reliability, smaller footprint and faster time-to-market.
05/15/2013 | 230
Texas Instruments (TI) (NASDAQ: TXN) DLP® Products announced DLP® LightCrafter™ 4500, the newest offering from TI DLP that empowers developers with all the tools necessary to bring award-winning, intelligent display DLP technology and the power of light together to create real-world products and solutions for a range of industries.
05/13/2013 | 205
Tektronix, Inc., a leading worldwide provider of test, measurement and monitoring instrumentation, today announced its new precision multi-phase Power Analyzer. Featuring the industry's first Spiral Shunt™ design (patent application submitted), the Tektronix PA4000 Power Analyzer gives power electronics engineers stable, precise current measurements even on highly distorted power waveforms common in many applications.
05/08/2013 | 214
Agilent Technologies Inc. announced the Agilent U8480 Series, the world's fastest USB thermocouple power sensors. Based on the same front-end design as the Agilent 8480 and N8480 Series power sensors, the new U8480 Series offers improved specifications, including a measurement speed of 400 readings per second, 10 times faster than the legacy series
05/06/2013 | 202
Network operators can now greatly improve the fail-safe performance of their broadcast networks by using R&S BC-NETSTATE. The company's new network management software makes monitoring all devices in the system easier. A graphical configuration tool simplifies the integration of all devices, eliminating the need for complex third-party processes. This saves both time and money.
05/01/2013 | 218
Texas Instruments Incorporated (TI) introduced lithium-ion battery charger integrated circuits (ICs) that reduce charge time by 50 percent in smartphones and tablets compared to other charger solutions.
04/24/2013 | 237
Agilent Technologies Inc. affirmed its technology leadership in LTE-Advanced test with its introduction of the industry's first LTE-Advanced 8x8 MIMO signal-generation and analysis solutions. The offerings complement Agilent's other industry-first solutions for the LTE-Advanced standard.
04/22/2013 | 235
Single-cell battery charger ICs with I2C and USB OTG output achieve highest efficiency and cut charge time in half.
04/17/2013 | 225
National Instruments announced Measurement Studio 2013, the only .NET software suite that provides all the tools needed to build a professional, end-to-end test or measurement system in Microsoft Visual Studio. Measurement Studio 2013, which integrates into Visual Studio 2012, 2010 and 2008, is the only software on the market that addresses the specific needs of the test, measurement and automation industries.
04/15/2013 | 176
Agilent Technologies Inc. introduced the latest addition to its extensive optical power-meter portfolio. The two- channel N7747A and four-channel N7748A bring the industry-leading sensitivity of the 81634B sensor module to the compact multichannel N77 platform, with updated memory size and data-transfer speed.
04/10/2013 | 236
Expanding its line of energy-efficient, no-load adapter power controllers, Texas Instruments Incorporated announced the industry's first flyback controller that exceeds Energy Star 5 standby power requirements for 10- to 65-W AC/DC adapters used with notebooks, motor control, smart meters, micro-inverters and other high-powered applications.
04/08/2013 | 209
The popular R&S FSH family of handheld spectrum analyzers from Rohde & Schwarz has two new models: the R&S FSH13 covering the range from 9 kHz to 13.6 GHz and the R&S FSH20 covering the range to 20 GHz. For maximum sensitivity, both models are equipped with an amplifier that can be activated. Users can now use the handheld analyzers' wide range of measurement features up into the microwave range.
04/05/2013 | 216
Anritsu introduces Windows-based remote control software for its truly portable PIM Master MW82119A. Field technicians on the ground can now control an MW82119A configured on top of the tower, making it easier and more efficient to conduct highly accurate Passive Intermodulation (PIM) measurements, especially for difficult-to-access sites, such as Remote Radio Head (RRH) installations.
04/04/2013 | 227
Texas Instruments Incorporated (TI) (NASDAQ: TXN) introduced three wide-input voltage synchronous boost controllers with high efficiency and high power density. The LM5122Q multi-phase boost controller features the industry's widest input and output voltage range. The low quiescent-current TPS43060 and TPS43061 boost controllers feature 1-MHz operation and a small QFN package.
04/03/2013 | 192
Agilent Technologies Inc. announced that all new Agilent electronic test instruments sold after this date will be covered by a "bumper-to-bumper" three-year repair warranty. The increase from one year to three years is the result of ongoing quality initiatives that, from 2002 to 2012, yielded unprecedented improvements in product reliability and earned top marks in an independent customer survey rating RF and microwave product quality.
04/01/2013 | 210
Tektronix, Inc., the world's leading manufacturer of oscilloscopes, announced the industry's lowest noise and highest bandwidth 30 GHz probing system with coaxial connectors. The new P7600 Series Probing System features probe-specific DSP filters that enhance performance and minimize noise levels. When paired with the Tektronix DPO/DSA73304D oscilloscope, the P7600 Series Probing System provides connectivity and signal fidelity for high speed differential signal measurements on serial bus designs like PCI Express.
03/31/2013 | 217
Anritsu Company introduces the MS2027C and MS2037C, the latest two members of its VNA Master handheld vector network analyzer series. The new VNA Masters are ideal for demanding field use environments, including aerospace and defense, Satellite Communications (SATCOMS), commercial wireless backhaul, and research.
03/27/2013 | 234
The Fluke 709H mA loop calibrator is designed to save time and produce high-quality results. The 709H offers HART communication and supports a select set of the HART universal and common practice commands. This makes the 709H unique as both an affordable, compact loop calibrator and powerful HART communication tool.
03/25/2013 | 212
Agilent Technologies Inc. announced the availability of real-time spectrum analysis (RTSA) for its PXA X-Series signal analyzers. Agilent's RTSA delivers unmatched probability of intercept (POI), analysis bandwidth, sensitivity, and frequency range-capabilities that make it the best way for system developers and signal analysts to see, capture and understand highly elusive signals.
03/20/2013 | 209
In addition to various new options for its oscilloscopes, Rohde & Schwarz has continued to expand its range of probes as well: Available for the first time on the market, there is now a broadband, ground-referenced model with a range up to 6 GHz. A differential high-voltage probe is also available.
03/18/2013 | 228
Tektronix, Inc., a leading innovator of signal generation and analysis solutions required for the microwave and RF industry, announced the H500 and SA2500 Handheld Spectrum Analyzers that include DPX™ waveform image processor technology to provide a live RF view of the spectrum. With unique DPX technology along with built-in mapping and signal classification features in a compact, ruggedized package, the instruments are designed to allow spectrum regulators to efficiently manage and monitor spectrum in the field and hunt down elusive signals and interferers.
03/13/2013 | 227
Agilent Technologies Inc. announced the addition of wireless connectivity to its U1210 Series clamp meter. It also added new capabilities, including voice output and remote hosting, to the Mobile Meter and Mobile Logger applications that support the company's wireless connectivity solution for handheld digital multimeters and clamp meters.
03/11/2013 | 201
With the R&S RSC family, Rohde & Schwarz is launching a unique range of switchable step attenuators. The product family encompasses the world's first step attenuator up to 67 GHz and a precision model with 0.1 dB step size offering excellent accuracy and stability.
03/06/2013 | 218
Seventh Generation Spectrum Master™ has Best-in-class Dynamic Range, DANL, Phase Noise, and Sweep Speed, Plus Touchscreen and Tracking Generators up to 20 GHz.
03/04/2013 | 229
Agilent Technologies Inc. introduced software for decoding MIPI Unified Protocol (UniPro) and Low Latency Interface (LLI) protocols. The new protocol decoders provide design and validation engineers with a fast, easy way to validate and debug their embedded UniPro and LLI interfaces.
03/01/2013 | 221
Rohde & Schwarz will be presenting a comprehensive range of EMC test equipment at the EMV 2013 international trade fair in Stuttgart (hall C2, booth 328). The new R&S ESRP has been created as a follow-up model to the extremely fast R&S ESR EMI test receiver to provide precompliance testing. Rohde & Schwarz will also be presenting its first automated test system for the new ETSI EN 300 328 V1.8.1 standard. The company's portfolio of broadband amplifiers has been expanded as well.
02/27/2013 | 233
Four new PXI and PXI Express programmable resistor modules extend the NI hardware-in-the-loop (HIL) platform to meet custom requirements in a variety of HIL testing applications for embedded software validation. Included example programs and reference VIs help engineers easily create custom NI LabVIEW applications and NI VeriStand plug-ins to meet their requirements.
02/25/2013 | 202
Multimeter displays the meter measurement, plus readings from up to 3 wireless modules, from up to 20 meters away.
02/20/2013 | 246
Agilent Technologies Inc. extended its leadership in 802.11ac WLAN test solutions with its latest measurement application release for X-Series signal analyzers. The software release offers expanded WLAN support to include the emerging 802.11ac standard.
02/18/2013 | 229
New bandwidths, mixed-signal analysis and options for testing USB interfaces, CAN LIN buses and audio signals: Rohde & Schwarz significantly expanded its oscilloscope portfolio in 2012. At the embedded world 2013 trade fair in Nuremberg (hall 4, booth 112), the company will present its latest applications, two new probes and other state-of-the-art products. The Rohde & Schwarz press day on Tuesday, February 26, 2013, will give journalists an overview of the company's innovations.
02/13/2013 | 212
Tektronix, Inc., the world's leading manufacturer of oscilloscopes, announced a new, easier-to-use family of arbitrary/function generators, the AFG3000C Series, and added two new 50 MHz models to the line-up. All models in the AFG3000C Series now feature active LCD displays that allow users to more easily see waveform parameters and wave shapes.
02/11/2013 | 237
Agilent Technologies Inc. introduced two new low-noise power sources. Members of the Agilent B2900A precision instrument family, the one-channel B2961A and the two-channel B2962A are revolutionary power supplies for precision low-noise voltage/current sourcing.
02/06/2013 | 247
NI released the NI PXIe-8133 high-performance embedded controller, which features the quad-core Intel® Core™ i7-820QM processor. The NI PXIe-8133 is the first PXI Express quad-core controller in the industry.
02/04/2013 | 242
Flexible, secure, SCA based: The new R&S SDTR software defined tactical radio enables high data rate, jam-resistant communications in network centric operations.
01/30/2013 | 225
Agilent Technologies Inc. announced the launch of a new Web portal that allows customers to manage their relationship with Agilent and receive information personalized to their interests and the products they own.
01/28/2013 | 226
Anritsu Company expands its line of industry-leading Passive Intermodulation (PIM) test solutions with the introduction of the PIM Master™ MW82119A, the industry's first high-power, battery-operated, portable PIM test analyzer. One quarter the size and half the weight of alternative PIM test solutions, the MW82119A offers the inherent advantages of PIM Master – including 40W testing and Anritsu's patented Distance-to-PIM™ (DTP) – in a compact housing suited for difficult-to-access sites, such as Remote Radio Head (RRH) installations and indoor Distributed Antenna Systems (DAS).
01/23/2013 | 262
Fluke Corporation introduces the Fluke® Ti105 and TiR105 Thermal Imagers, the latest addition to Fluke's series of lightweight, rugged, and easy to use imagers. The Ti105 and TiR105 offer the popular Fluke IR-Fusion® technology feature, not normally found in thermal imagers in this price class.
01/21/2013 | 253
Agilent Technologies Inc. unveiled ADS 2012, the next major release of its Advanced Design System (ADS) flagship RF and microwave EDA platform. ADS 2012 delivers new capabilities that improve productivity and efficiency for all applications it supports, as well as breakthrough technologies applicable to GaAs, GaN and silicon RF power-amplifier multichip module design.
01/16/2013 | 235
Tektronix, Inc., the world's leading manufacturer of oscilloscopes, announced that EDN has named the THS3000 handheld oscilloscope series as one of the "100 Hot Products of 2012." The 2012 EDN Hot 100 highlights the electronics industry's most significant products of the year based on innovation, significance, usefulness, and popularity as determined by a panel of the publications' editorial staff.
01/14/2013 | 226
The Consumer Electronics Association (CEA)® announced that the 2013 International CES® is the largest in the show's 45+ year history, with 1.92 million net square feet of exhibit space. The previous record was 1.86 million net square feet of space at the 2012 International CES. More than 3,250 exhibitors unveiled some 20,000 new products at the 2013 CES, drawing more than 150,000 attendees, including more than 35,000 from more than 170 countries outside the United States. Owned and produced by CEA, the 2013 International CES is the world's largest annual innovation event and concluded on Friday, Jan.11.
01/14/2013 | 219
The R&S®ESR EMI Test Receiver has been named one of the "100 Hot Products of 2012" by UBM Tech's EDN. The 2012 EDN Hot 100 highlights the electronics industry's most significant products of the year based on innovation, significance, usefulness, and popularity.
01/12/2013 | 244
The 2013 International CES® opened its doors featuring more than 3,250 exhibitors across 1.9 million net square feet of exhibit space, breaking both space and exhibitor records that were set last year. Innovation propelled this year's preshow press events that kicked off with 74 companies showcasing their latest tech at CES Unveiled on Sunday night, and nearly 30 exhibitors launching new products during CES Press Day. Owned and produced by the Consumer Electronics Association (CEA)®, the 2013 International CES, the world's largest annual innovation event, opens today and runs through Friday, January 11 in Las Vegas, Nevada.
01/11/2013 | 214
Samsung's Flexible Displays, Brand Matters' Experts and Best of CES Awards Highlight Day Two And Three of 2013 CES President Clinton addresses how mobile devices can bridge the global divide; FCC Announces Initiative to Improve Wi-Fi Congestion.

01/09/2013 | 647
International Expo CES, January 8 2013. Here at CES 2013, AKTAKOM has unveiled new technologies for Web and Android applications in AKTAKOM measuring devices. Among innovative devices exhibited are APS-7305L – finalist in Power supply category of the competition held by "Test & Measurement World" magazine – and ATE-9538 with AKTAKOM Environment Measurement A software.
01/07/2013 | 240
The NI WSN-3214 strain/bridge completion node features hardware-timed waveform acquisition and is ideal for wireless structural health monitoring of bridges, buildings and equipment. With expanded voltage range, faster sampling rates and higher integrated electronic piezoelectric (IEPE) excitation, the NI 9232 C Series module is a data acquisition card optimized for industrial accelerometers, tachometers and proximity probes in condition monitoring applications.
01/04/2013 | 256
Innovation meets policy at the Consumer Electronics Association's (CEA)® Innovation Policy Summit at the 2013 International CES®. The summit will host discussions from top government officials and representatives from startups and established consumer electronics companies to highlight the relationship between groundbreaking products and technology policies at the 2013 CES, the world's largest innovation event, January 8-11, 2013, in Las Vegas. Speakers include representatives from the U.S. Congress, Federal Trade Commission (FTC), Google and Verizon as well as the Chairman and all four Commissioners from the Federal Communications Commission (FCC).
01/02/2013 | 233
Agilent Technologies Inc. announced the U1273AX OLED handheld digital multimeter, which can operate in temperatures as low as -40 C. Even in such frigid conditions, the new handheld DMM provides accurate results with no warm-up time required.
12/31/2012 | 286
Anritsu Company announces the industry's first call-based LTE Advanced Carrier Aggregation testing capability that can be integrated into its MD8430A LTE Signalling Tester. The software-only upgrade leverages the four available RFs in the MD8430A, and provides 300 Mb/s downlink throughput using two 2x2 MIMO Component Carriers (CCs). When configured with this option, the MD8430A can test advanced wireless devices at twice the rate available on today's most advanced LTE networks.
12/28/2012 | 263
The 2013 International CES® will unveil the latest wireless technologies and trends across the mobile connected universe, including advancements in accessories, the cloud, e-books, embedded technology, smartphones and tablets, through a series of keynote addresses, supersessions, conference tracks and TechZones dedicated to future trends in wireless technology.
12/26/2012 | 267
Agilent Technologies Inc. introduced the groundbreaking InfiniiVision 4000 X-Series digital-storage and mixed-signal oscilloscopes. This new series establishes unprecedented levels of flexibility and ease of use among units that use an embedded operating system.
12/24/2012 | 281
Now there's one intrinsically safe digital multimeter (DMM) you can use in IIC (gas), in Zone 1 and 2 and IIIC (dust), Zone 21 and 22. Whether you work in petroleum, chemical, or pharmaceutical environments, all the test and troubleshooting power you need is packed into the most rugged intrinsically safe (IS) DMM Fluke has ever built. The Fluke 28 II Ex is also waterproof, dust-proof and drop-proof. You'll be equipped to handle any situation, inside and outside of hazardous zones, without compromising compliance or measurement performance.
12/21/2012 | 308
More than 1,300 internationally headquartered companies from 48 countries outside of the United States will unveil their latest consumer technology products at the 2013 International CES®, totaling more than forty percent of exhibiting companies. Owned and produced by the Consumer Electronics Association (CEA)®, the 2013 CES, the world's largest annual innovation event, will feature 3,000 exhibitors across more than 1.85 million net square feet of exhibit space. The 2013 International CES will run Tuesday, January 8-Friday, January 11, 2013 in Las Vegas, Nevada.
12/19/2012 | 282
Near field communications (NFC), a proximity communications system for applications such as contactless payment, electronic ticketing or exchanging digital content, will be integrated into mobile phones and smartphones to a growing extent. The R&S®FS-K112PC NFC measurement software analyzes NFC signals and measures the most important parameters of such signals.
12/17/2012 | 258
Agilent Technologies Inc. announced that its Signal Studio for Global Navigation Satellite Systems (GNSS) software (N7609B) has been enhanced with real-time and basic mode capabilities designed to allow engineers to simulate Galileo signals for receiver testing and to address the needs of the manufacturing test market.
12/14/2012 | 253
The Consumer Electronics Association (CEA)® announced that executives from American Express, AT&T, Coca-Cola, Salesforce.com, Samsung and Unilever will join the Brand Matters keynote at the 2013 International CES®. Owned and produced by CEA, the 2013 CES is the world's largest annual innovation event and is scheduled for January 8-11 in Las Vegas.
12/12/2012 | 278
Tektronix, Inc., the world's leading manufacturer of oscilloscopes, introduced the TBS1000 Series of entry-level oscilloscopes, giving electrical engineers, educators and hobbyist an affordable, dependable and full-featured tool for a wide variety of general purpose electronics test applications.
12/10/2012 | 266
The Consumer Electronics Association (CEA)® announced a new program with the Startup America Partnership, a national network of communities dedicated to advancing the success of American start-ups, for the 2013 International CES®. The partnership will bring specific programming for entrepreneurs and start-ups at the 2013 International CES, world's largest innovation event. Owned and produced by CEA, the 2013 CES is scheduled for January 8-11, 2013 in Las Vegas, Nevada.
12/05/2012 | 260
Agilent Technologies Inc. (NYSE: A) announced the latest upgrade of the company's E5071C ENA series network analyzer's digital hardware. The measurement cycle time of the new hardware is two times faster than that of any other competitive RF network analyzer.
12/03/2012 | 255
Rohde & Schwarz now offers a new R&S FSW signal and spectrum analyzer model for microwave applications up to 43.5 GHz. Harmonic mixers from Rohde & Schwarz extend the frequency range to 110 GHz. Developers of wireless, radar and satellite applications will appreciate the outstanding RF performance of the R&S FSW43.
11/28/2012 | 297
Yokogawa Electric Corporation announces that it will release an enhanced version of the ADMAG AXR two-wire magnetic flowmeter on August 17. This enhanced flowmeter has been certified for use in safety integrity level (SIL2) applications, as stipulated by the International Electrotechnical Commission (IEC), and it supports the latest HART 7 protocol.
11/26/2012 | 247
Agilent Technologies Inc. announced that its ongoing collaboration with Thales, a global technology leader for the defense and security and the aerospace and transport markets, has expanded the reach of X-parameters technology to wideband super-heterodyne receiver applications.
11/23/2012 | 242
The 25th electronica, the International Trade Fair for Electronic Components, Systems and Applications, came to a close today with more than 72,000 visitors. A total of 2,669 exhibitors from 49 countries presented the future of electronics and showcased application-oriented solutions during the four-day fair, which revolved around intelligent and energy-efficient solutions in the sectors for energy storage, LEDs and smart grids. Smart grids were also the focus of this year's CEO Round Table, one of the highlights in the related-events program.
11/21/2012 | 322
Tektronix, Inc., the world's leading manufacturer of oscilloscopes, announced that it has expanded its revolutionary MDO4000 Series of Mixed Domain Oscilloscopes to include two new entry level models. With the same features and functionality of the 12-time award-winning MDO4000, the new models put breakthrough time and frequency domain analysis in the hands of engineers at a more affordable price level.
11/19/2012 | 280
Catch the glitch is an addictive game of skill and speed.
11/14/2012 | 226
Agilent Technologies Inc. introduced InfiniiMode differential probes, a new generation of low-cost, 1.5-GHz, 3.5-GHz, and 6-GHz differential active probes for general-purpose, high-speed differential probing. They are especially well suited for digital system design, component design/characterization and differential serial bus measurements.
11/12/2012 | 330
NI expands the NI CompactDAQ platform with stand-alone data acquisition systems compatible with over 50 sensor-specific I/O modules for flexible, mixed-measurement data logging. The stand-alone NI CompactDAQ system includes a built-in dual-core Intel processor and onboard storage to deliver high-performance processing in a single, portable system. Using NI LabVIEW system design software, engineers can customize a data-logging or embedded monitoring solution to acquire, analyze and visualize their data in one environment.
11/09/2012 | 292
Agilent Technologies Inc. announced a new release of SystemVue, Agilent's premier platform for designing communications systems.
11/08/2012 | 253
Energy-efficient laboratory power supplies, touchscreens for treatment rooms and innovations in telemedicine: These and a number of other new developments in the medical-electronics sector will be presented at electronica 2012. All in all, more than 730 exhibitors from around the world will present their latest components and services that pertain to medical electronics. On November 14, electronica will pay special attention to topics such as vital-signs monitoring and ambient assisted living (AAL) in a lecture series on "Medical Electronics" at the electronica Forum. electronica, the leading international trade fair for electronic components, systems and applications, takes place in Munich from November 13 – 16.
11/07/2012 | 265
As serial bus standards become faster and more complex, debug has emerged as a major engineering productivity issue. Tektronix, Inc., the world's leading manufacturer of oscilloscopes, is stepping up to simplify serial bus test complexity. The company announced a broad set of oscilloscope firmware and software upgrades designed to simplify and shorten serial bus debug cycles and enhanced support for a number of important serial bus standards including PCI Express, CAN/LIN, FlexRay, MIL-STD-1553B and MOST (Media Oriented System Transport).
11/05/2012 | 254
Agilent Technologies Inc. announced the availability of Agilent U3055A/U3056A SerialTek BusXpert PRO II 12G SAS and SATA analyzers. Both analyzers are designed for 12-Gbps SAS (Serial Attached SCSI) and 6-Gbps SATA (Serial AT Attachment). They provide fast protocol analysis to help data storage developers address potential issues early in the design cycle and get products to market faster.
11/03/2012 | 242
The Consumer Electronics Association (CEA)® announced that the 2013 International CES® is the largest app event in the world. Owned and produced by CEA, the 2013 International CES, the world's largest annual innovation event, will take place January 8-11, 2013, in Las Vegas, Nevada.
11/02/2012 | 350
Panasonic enters this high power product category with both 800 and 1100 VDC variants in small package sizes.
11/01/2012 | 260
From November 13 – 16, electronica 2012 will present the entire range of hardware and software in the sector for embedded platforms – from industrial PCs and industrial control units to software-debugging solutions and entire development tools for microcontrollers. In addition, the first embedded platforms conference will be held on November 14 and 15. Besides how to select the best embedded modules, the conference will answer fundamental questions about choosing components and system design. Together with the exhibition and the forum, the conference rounds out the three-pillar concept for the embedded sector.
10/31/2012 | 390
The MT8820C now supports the new LTE FDD Band22 and LTE TDD Band42/43 frequencies used by LTE smartphones and mobiles,as part of a complete LTE, W-CDMA/HSPA, CDMA2000Ⓡ, TD-SCDMA, & GSM test solution.
10/29/2012 | 268
Agilent Technologies Inc. announced that AT4 wireless' Test Systems business assets are now part of Agilent.
10/26/2012 | 295
Agilent Technologies Inc. announced 14 FieldFox handheld analyzers that deliver benchtop-instrument accuracy in field-test environments. Designed for harsh conditions and hard-to-reach locations, FieldFox analyzers cover satellite communications, microwave backhaul, military communications, radar systems and a wide range of additional applications.
10/24/2012 | 288
LabVIEW 2012 Provides recommended application architectures designed to save time, ensure scalability and lower maintenance costs; includes stability improvements and environment enhancements derived directly from customer feedback designed to increase productivity; supports a large portfolio of new hardware products showcasing NI's commitment to expanding platform capabilities and enabling cutting-edge systems.
10/22/2012 | 312
Spectracom released version 1.9 of the product's firmware. This update package is available through the public web site. It is recommended to update all fielded units with this upgrade.
10/19/2012 | 391
Introducing the NEW PAN1321i Series Bluetooth RF Module compatible with Apple devices such as the iPod®, iPhone® and iPad®.
10/17/2012 | 312
Rohde & Schwarz introduces the new R&S ESR EMI test receiver whose broadband architecture allows standard-compliant EMI measurements up to 6000 times faster than other solutions. Comprehensive diagnostic tools such as spectrogram display, realtime spectrum analysis and IF analysis help developers detect and eliminate EMI. The R&S ESR is impressively easy to use thanks to its intuitive touchscreen interface.
10/15/2012 | 313
Agilent Technologies Inc. announced a USB-powered, single-pole double-throw coaxial switch, operating from DC to 18 GHz. The first-to-market microwave switch driven by a USB port, the Agilent U1810B will provide system-design and manufacturing engineers a long-operating-life solution with convenient RF switching.
10/12/2012 | 431
Panasonic Electronic Components, a worldwide leader in Capacitor Products, is pleased to announce the NEW EEH-ZA and EEH-ZC Series Hybrid Surface Mount Aluminum Electrolytic Capacitors. These two NEW Hybrid Capacitor Series take the benefits of both electrolytic and polymer capacitor technologies and combine them, producing a capacitor with low ESR, low leakage current, high ripple current and smaller case sizes. These combined benefits save valuable board space, enhance overall board performance and lower design costs.
10/10/2012 | 357
The GSG-62 L1+L2 Dual Frequency 32-channel Multi-GNSS Simulator is shipping! In August Spectracom released an update to GSG StudioView scenario builder software to correspond to all the new capabilities in the GSG-62 including multi-frequency simulation.
10/08/2012 | 428
The DL850 ScopeCorder Series are modular, waveform recording instruments that can measure voltage, current, strain, acceleration, and other phenomena-- simultaneously. With high speed sampling, high isolation withstand voltage, and multichannel measurements, the DL850 Series offers powerful support in the development, evaluation, and quality control of energy efficient devices.
10/03/2012 | 409
Anritsu at the International Microwave Symposium introduced noise-figure measurement capability for its VectorStar MS4640A and ME7838A vector network analyzers (VNAs) to provide designers, modelers, and manufacturers of RF/microwave amplifiers with a new level of measurement capability.
10/01/2012 | 350
SecureSync platform to support the integration of multiple devices and systems using precise time and frequency signals.
09/28/2012 | 389
Flatter, more compact, higher resolutions and higher contrast – those are the convincing features of the latest displays at electronica 2012. LED technology is also making advances. Implementing the EU's eco-design guidelines is giving the market for innovative light sources positive new impetus. From November 13 – 16, exhibitors from around the world will present their products, the latest solutions and the most important trends in the display and LED sector. At electronica's automotive Forum, industry experts will discuss displays and LEDs in the automotive sector. One of the highlights will be a panel discussion on "Lighting concepts and LEDs" on November 14.
09/26/2012 | 533
In wireless device precompliance testing, the compact R&S DST200 RF diagnostic chamber from Rohde & Schwarz now automatically sets the equipment under test (EUT) to the required position. The new options make the R&S DST200 the only RF test chamber on the market that enables OTA performance and RSE testing of wireless devices such as smartphones right on the lab bench. Test results are comparable with those obtained with large RF test chambers and are used for product optimization during the design phase – providing an ideal preparation for final compliance testing.
09/24/2012 | 381
Agilent Technologies Inc. announced the availability of a wideband MIMO PXI vector signal analyzer that delivers the industry's highest-bandwidth signal analysis. The new analyzer enables R&D and test engineers to validate their MIMO 802.11ac designs with a unique combination of accuracy, speed, bandwidth and scalability in a small form factor.
09/21/2012 | 316
At electronica from November 13 – 16, leading international companies will present their products, the latest solutions and the most important trends that pertain to the topic of electromobility. In the automotive Forum, industry experts will provide insights into technologies and markets that are relevant to actual practice. On November 12 and 13, industry specialists at the electronica automotive conference at the ICM - Internationales Congress Center München will examine strategies for mobility of the future.
09/17/2012 | 386
Anritsu Company introduces the Site Master S331L Cable and Antenna Analyzer, a new generation of rugged handheld field instrumentation that builds off the field-proven design and success of the Site Master to provide high-performance cable and antenna analysis quickly and accurately.
09/17/2012 | 579
Yokogawa Electric Corporation announces that it has released the FieldMate™ R2.05 Versatile Device Management Wizard. FieldMate is a versatile software program for configuring, adjusting, and managing a wide variety of field sensors used in factories and other production sites.
09/14/2012 | 371
In close cooperation with the ZVEI (Electrical and Electronics Manufacturers' Association), the PCB Marketplace communications platform is being initiated at electronica for the first time. Following its successful launch at productronica 2011, now the forum as well as a networking area will be a central gathering for the PCB industry at electronica. The International Trade Fair for Electronic Components, Systems and Applications takes place in Munich from November 13 – 16.
09/12/2012 | 369
Agilent Technologies Inc. announced the availability of the first dual-channel PXI vector signal analyzer that delivers high-bandwidth, independently tuned, two-channel, continuous data capture. This product, a new configuration of Agilent's M9392A analyzer, enables R&D and test engineers to detect and identify sources of RF interference - even in dense urban environments where many unwanted signals may be present.
09/10/2012 | 448
National Instruments announced that Lockheed Martin will integrate NI PXI modular instrumentation and platform products in the U.S. Navy's electronic Consolidated Automated Support System (eCASS) automated test equipment family.
09/07/2012 | 455
Panasonic offers the NEW ECK-THC Series Surface Mount Ceramic Sub-Class Y1-Rated Capacitors for power supply applications. This Series is for line-to-ground use and has a voltage rating of 250 VAC.
09/05/2012 | 393
Agilent Technologies Inc. introduced the E4982A LCR meter, the newest addition to its LCR family of meters. The Agilent E4982A delivers the best performance for manufacturing passive components such as SMD inductors and EMI filters, where impedance testing at frequencies of 1 MHz to 3 GHz is required. The E4982A's powerful list measurements make it suitable for R&D and quality assurance.
09/03/2012 | 441
Best-in-class repeatability, accuracy for checking overall health of motors and other rotating equipment.
08/29/2012 | 386
Rohde & Schwarz integrates SwissQual, a leading provider of systems for measuring and assessing the quality of service (QoS) in wireless networks, into the Rohde & Schwarz group of companies. Through the acquisition of SwissQual, founded in 2000 and based in Zuchwil, Switzerland, Rohde & Schwarz will be in a position to even better and more fully address the drive test market with a complete industry-leading technological offering.
08/27/2012 | 400
Agilent Technologies Inc. announced that Frost & Sullivan recognized Agilent with the 2012 Europe Frost & Sullivan Customer Service Leadership Award for Calibration Services.
08/22/2012 | 402
Agilent Technologies Inc. announced that its EXA signal analyzer is now the industry's most cost-effective millimeter-wave signal analyzer, covering frequencies up to 44 GHz. With external mixing, it can cover up to 325 GHz. The result is easier, more accurate millimeter-wave measurements.
08/20/2012 | 424
Mobile devices, including smartphones and tablets, are increasingly being adopted for measurement and control applications. Their evolving functionality and use cases include visualization capabilities and connectivity to wireless hardware devices.
08/15/2012 | 395
Showcased for First Time at SID 2012, Prototype Android Tablet with Physical Keyboard that Rises From Flat Touchscreen Developed as Part of New Partnership with Touch Revolution.
08/13/2012 | 466
Altera Corporation and Texas Instruments Incorporated introduced a complete RF development kit that reduces the time needed to design and verify RF systems from months to weeks.
08/08/2012 | 592
At airports, trade fairs or sports stadiums – wherever large numbers of smartphone users gather – data traffic dramatically increases. The simple and economical cutting-edge QualiPoc Android walk test solution from SwissQual allows network operators to ensure high quality coverage at crowded locations. Rohde & Schwarz now offers this smartphone-based test solution for voice and data services with the new R&S ROMES2GO.
08/06/2012 | 421
Takes the heat. And the dust, water and 3-meter drop. The Fluke 62 MAX and 62 MAX+ are the only mini IR thermometers you can handle without care.
08/01/2012 | 411
At NIWeek 2012, NI engineers and industry experts give more than 250 technical presentations divided into three technical tracks: Test and Data Acquisition, Software Development Techniques and Embedded Monitoring and Control.
07/30/2012 | 363
Several technologists from Texas Instruments shared research and insight on semiconductor advancements shaping future applications at the 2012 Symposium on VLSI Technology.
07/26/2012 | 439
National Instruments announced a significant expansion of the research and development (R&D) center in Penang. Once complete, the expansion will be the largest R&D center for National Instruments outside of its headquarters in Austin, Texas. Over the next five years, National Instruments will recruit 250 engineers in the Penang R&D center in electrical, mechanical and engineering management.
07/25/2012 | 317
Agilent Technologies Inc. announced the industry's most advanced PC-based oscilloscope analysis software. The N8900A InfiniiView application allows engineers to view and analyze previously captured signals from oscilloscopes made by Agilent and other vendors.
07/23/2012 | 382
These options give engineers the features they need to more easily and quickly test their RF communications infrastructure.
07/18/2012 | 334
Anritsu introduces a tracking generator for its Spectrum Master™ MS2711E, MS2712E, and MS2713E models that enhances the overall performance of the handheld analyzers, while making it easier and faster for field technicians to conduct additional measurements. With the tracking generator installed, the Spectrum Master analyzers can be used by service providers, R&D engineering, contractors, installers, public safety organizations, and broadcast stations to conduct highly accurate measurements and improve efficiency when deploying, installing, and maintaining networks.
07/16/2012 | 438
Agilent Technologies Inc. announced new DDR4 DIMM and SO-DIMM interposer support for the Agilent U4154A, the fastest logic analyzer in the industry. The new interposers from FuturePlus Systems deliver the widest range of DDR4 support, both in product functionality and performance for the Agilent U4154A.
07/13/2012 | 474
CE Week, presented by the Consumer Electronics Association (CEA®), concluded in New York City on June 29. The event, which spanned more than 48,000 square feet of floor space, featured a weeklong series of technology events across the city, including the CEA Line Shows, Digital Downtown Conference, Eureka Park Challenge and Mobile Apps Showdown. The conference sessions, networking events, press conferences and product launches drew thousands of media and CE industry professionals from across the nation.
07/11/2012 | 369
Today's set-top boxes, tablet PCs and smartphones are equipped with digital video interfaces such as the high-definition multimedia interface (HDMI) and the mobile high-definition link (MHL). The new R&S VTC video test center can be used to test the functionality of these interfaces and their compliance with the relevant standards. The R&S VTC provides combined realtime protocol testing and audio/ video analysis including difference picture analysis, offering user equipment manufacturers the most flexible test platform on the market.
07/09/2012 | 362
Agilent Technologies Inc. has received the 2011 Global Frost & Sullivan Award for Company of the Year for its performance in the oscilloscope market. The award is based on Frost & Sullivan's recent analysis of the oscilloscope market. Frost & Sullivan ranked Agilent as the No. 2 company in 2009, but its rapid revenue growth since then has made it the leader in market penetration.
07/04/2012 | 355
The Fluke 717 Pressure Calibrators delivers outstanding performance, durability and reliability. These calibrators are compact, lightweight, and easy to carry.
07/02/2012 | 478
National Instruments announced the LabVIEW Electrical Power Suite, a new toolkit specific to the power industry. With this toolkit, engineers can combine an NI CompactRIO system for power measurement with over 50 signal and sensor modules.
06/27/2012 | 388
Agilent Technologies Inc. announced four new X-Series signal generators that provide unmatched performance in phase noise, output power, ACPR, EVM and bandwidth. With these capabilities, Agilent's new MXG and EXG products (available in analog and vector models) support the development of components and receivers that meet the complex challenges of mitigating interference, speeding data throughput and increasing signal quality in applications such as radar, military communications and consumer wireless.
06/25/2012 | 438
Tektronix announced that its Beijing service center has been accredited as a calibration service provider for electrical instruments by the China National Accreditation Service for Conformity Assessment (CNAS). With this accreditation, Beijing customers will have one single source provider to manage their entire test, measurement and control equipment calibration program.
06/20/2012 | 427
The MG3710A Vector Signal Generator is a best-of-class, high-function, signal generator with excellent RF and baseband performance.
06/18/2012 | 317
For the protection of operators and maintenance personnel, the machines and systems used in electronics production must incorporate relevant safety functions. Rohde & Schwarz Messgeraetebau GmbH has developed a system enhancement specifically for automatic test systems to reliably ensure the specified level of safety. The enhancement is applicable for a wide range of test systems and can even be retrofitted.
06/13/2012 | 438
New Fluke 985 is ideal for troubleshooting and monitoring indoor air quality and verifying HVAC filter performance.
06/11/2012 | 370
National Instruments introduced the NI PXIe-1066DC 18-slot chassis, which adds high-availability features to the PXI Express platform to maximize system uptime. These features improve the system-level mean time before failure (MTBF) and mean time to repair (MTTR) of PXI systems in many demanding, mission-critical test, measurement and control applications. The chassis adds critical component redundancy and remote monitoring to the uptime-focused capabilities of existing NI PXI instrumentation.
06/06/2012 | 369
Agilent Technologies Inc. announced that it launched a branded network on YouTube. Customers can now visit a cutting-edge YouTube network to see videos from the company's three business groups.
06/04/2012 | 391
Spectracom's 32-channel GSG-62 provides expandability to simulate current and future satellite navigation signals and frequencies.
05/30/2012 | 397
The new R&S®ETC compact TV analyzer offers the full range of measurement functions required for quality testing of digital ISDB-T, DVB-T and DVB-T2 transmitters. Network operators will benefit from this high-precision, compact and easy-to-use instrument that offers the best price/performance ratio in its class.
05/28/2012 | 362
Aritsu is the first test equipment supplier to release the new generation equipment that is following these market demands. The MG3710A is the newest product on the market, and supports unique new measurement techniques to support these latest wireless transmission standards.
05/23/2012 | 366
National Instruments announced the NI PXIe-4357 RTD module, the latest addition to its SC Express sensor measurement family for PXI Express. The high-performance module is optimized for temperature measurements with Pt100 RTD sensors for a variety of thermal monitoring applications.
05/21/2012 | 319
Tektronix announced that its OM4000 Series Optical Modulation Analyzer can now drive the DSA8300 Digital Sampling Oscilloscope to perform analysis on PM-QPSK, QAM, and other complex-modulation signals with higher vertical resolution than real-time based solutions at lower total system cost.
05/16/2012 | 406
The new IC-CAP release radically changes the way data is stored, analyzed and selected for modeling tasks, greatly increasing workflow efficiency and ensuring continued data integrity and traceability.
05/14/2012 | 379
Fluke knows temperature, with more than two decades of thermometry experience. Today, the company offers the latest in non-contact IR temperature test tools, probes, accessories, and application expertise for a complete range of applications. And Fluke backs its tools with the industry's best warranty and highest rated customer service.
05/09/2012 | 484
With two of its four channels active and the maximum 2 Gsamples/active channel acquisition-memory installed, Agilent's new Infiniium 96204Q real-time-sampling DSO takes 160 Gsamples/sec on each active channel and, at that sampling rate, captures records of 12.5-msec duration.
05/07/2012 | 285
National Instruments announced a new wireless gateway and two new measurement nodes that extend the capabilities of the NI wireless sensor network (WSN) platform and illustrate the company's commitment to wireless measurement technology. With NI LabVIEW system design software, engineers can easily integrate wired and wireless measurement and control systems and deploy autonomous programs to WSN nodes that perform local control, data analysis and event-based alarming or notification.
05/02/2012 | 383
The first distributed temperature sensor for oil/gas and industrial production operations developed by a production control system manufacturer.
04/30/2012 | 370
VAMOS, which stands for voice services over adaptive multi-user channels on one slot, is an extension of GSM that has been specified in the 3GPP standard. VAMOS can double the voice channels of a GSM base station.
04/25/2012 | 368
Agilent Technologies Inc. announced the industry's first reference clock multiplier. The Agilent N4880A reference clock multiplier enables R&D and test engineers to lock the pattern generator clock of the J-BERT N4903B and the ParBERT 81250A to reference clocks from the system under test.
04/23/2012 | 466
To achieve optimal results, WLAN user equipment needs to be tested under realistic operating conditions. The R&S CMW500 wideband radio communication tester and the R&S CMW270 wireless connectivity tester now have new options for accomplishing this task: In signaling mode, they can emulate a WLAN access point in line with IEEE 802.11a/b/g/n.
04/18/2012 | 389
Agilent Technologies Inc. announced that an innovative, new multi-measurement capability is being added to its 89600 VSA software, enabling simultaneous signal analysis of multiple carriers and signal formats for more efficient testing and deeper signal insight in wireless test.
04/16/2012 | 425
Fluke Corporation introduces five new infrared cameras with a broad range of powerful yet easy-to-use capabilities.
04/11/2012 | 539
Rohde & Schwarz continues to systematically broaden its oscilloscope portfolio, adding a 4 GHz model to its R&S RTO high-performance oscilloscope family. Together, the new R&S RTO1044 and the R&S RT-ZD40 differential probe (4.5 GHz bandwidth) are a powerful solution for developing digital, analog and RF designs.
04/09/2012 | 403
Agilent Technologies Inc. introduced the high-speed M9703A digitizer, the industry's first eight-channel, 12-bit digitizer that complies with the AXIe open standard. The AXIe digitizer is designed for use in large-scale applied physics applications.
04/04/2012 | 400
Tektronix, Inc., a leading worldwide provider of test, measurement and monitoring instrumentation, announced a comprehensive test solution for Thunderbolt technology. Thunderbolt is a new, high-speed, multi-protocol I/O technology designed to provide headroom for next generation display and I/O requirements.
03/28/2012 | 435
Keithley Instruments, Inc., a world leader in advanced electrical test instruments and systems, introduced the Model 2657A High Power System SourceMeter® instrument. The Model 2657A adds high voltage to the company's Series 2600A System SourceMeter® family of high speed, precision source measurement units.
03/16/2012 | 419
Agilent Technologies Inc. recently introduced a precision waveform analyzer for engineers involved in design verification and validation of high-speed electrical communications systems and components.
03/12/2012 | 492
Integrated physical and protocol layer testing offers faster debug, analysis and MHL CTS 1.2 compliance testing.
02/29/2012 | 478
New optical modules for DSA8300 digital signal analyzer support optical compliance test up to 100G. This complete solution eliminates the need for additional test equipment such as optical-to-electric converters.
02/27/2012 | 472
Spectracom's GSG-52 broadens the range GPS RF signal generators. Spectracom, a company of the Orolia Group and the leading provider of practical test solutions for GPS and GNSS devices and systems, has announced a new offering in its line of GPS constellation simulators.
02/22/2012 | 496
World's first mixed domain oscilloscope captures another prestigious industry award recognition.
02/17/2012 | 447
GPS simulators offer fast and easy testing of the upcoming leap second event on June 30 to validate performance of GPS devices and systems.
12/07/2011 | 633
Anritsu Company introduces the MA24105A, a standalone, compact, and highly accurate in-line peak power sensor that provides a wide range of power measurement capability over a frequency range of 350 MHz to 4 GHz.
11/17/2011 | 649
The European Organization for Nuclear Research (CERN) in Switzerland and the University of Sannio, Benevento, Italy, have collaborated on the design of an advanced instrument for measuring magnetic fields in CERN's Large Hadron Collider (LHC) superconducting magnets. Called the Fast Digital Integrator (FDI) board, this measurement device uses Analog Devices' A/D converters, analog multiplexers and DSP components to provide the LHC with the highest possible performance achieved to-date in measuring magnetic fields.
11/07/2011 | 668
Agilent Technologies Inc. introduced its 89600 WLA software, a MAC-layer complement to the company's industry-leading 89600 VSA software. The key benefit is the ability to view and interpret RF activity and measurements-retransmissions, power, modulation format, timing and so on-in a MAC-message context, and to also view and interpret MAC messages in an RF context.
11/03/2011 | 553
National Instruments introduced the Watchdog Agent Prognostics Toolkit for NI LabVIEW system design software, which expands the capabilities of LabVIEW in machine prognostics and health management (PHM) applications.
11/01/2011 | 736
Agilent Technologies Inc. announced the first complete and compliant test solution for 60-GHz wireless devices, including WiGig, WirelessHD and IEEE 802.11ad devices. Agilent's compliant solutions cover the lifecycle for mmWave devices from system-level design to verification testing.
10/28/2011 | 494
The Advantest spectrum analyzers offer a variety of applications, including propagation measurements, electromagnetic field radiation, interference monitoring and measurements, satellite signal monitoring and phased array antenna measurements.
10/24/2011 | 463
Agilent Technologies Inc. introduced a frequency converter measurement capability for its PNA and PNA-X Series network analyzers. With this capability, engineers now have a quicker, easier way to fully characterize mixers and frequency converters up to 67 GHz.
10/14/2011 | 728
productronica, the world's leading trade fair for innovative electronics production, will be offering an extensive supporting programme in the New Munich Trade Fair Centre from November 15 - 18. 2011. Representatives from business, science and research will be providing an extensive insight in the forums and the new Speaker's Corner into cutting-edge technologies and innovations, developments and trends.
10/10/2011 | 536
Keithley Instruments, Inc., a world leader in advanced electrical test instruments and systems, announced the availability of five new general-purpose programmable DC power supplies designed to complement the company's existing line of specialty power supplies and source measurement instruments for component, module, and device characterization and test applications.
10/07/2011 | 642
Fluke has taken its popular 743 and 744 Documenting Process Calibrators and improved them. And you're going to love the results. The new Fluke 753 and 754 give you an easier to read screen, newer software, improved battery life, USB ports, and even more…
10/04/2011 | 496
The new R&S®DVMS-B40 IP option for the R&S®DVMS monitoring family helps network operators achieve maximum operational reliability when feeding transport streams over IP networks. This option is used in the R&S®DVMS, the most compact monitoring system on the market today.
09/30/2011 | 554
Keithley Instruments, Inc., a world leader in advanced electrical test instruments and systems, announced a low-cost addition to its popular Series 2400 SourceMeter® instrument family.
09/26/2011 | 531
The latest version of NI VeriStand configuration-based software environment now includes a real-time stimulus profile tool that greatly expands deterministic test execution with looping and branching structures, composable arithmetic functions, multitasking and more. Engineers can combine NI VeriStand 2011 with INERTIA™, an add-on from Wineman Technology, Inc, which adds a suite of tools to NI VeriStand for optimized closed-loop control of dynamometer and servo-hydraulic-based test cells.
09/22/2011 | 541
The R&S FSW signal and spectrum analyzer from Rohde & Schwarz outperforms all comparable high-end instruments on the market in both RF performance and bandwidth. The R&S FSW was specially designed to meet the requirements of development laboratories in the aerospace, defense and communications industries. The result is reflected in its excellent technical features.
09/19/2011 | 477
Agilent Technologies Inc. (NYSE: A) announced a range of cutting-edge capabilities that enable economical testing and evaluation of advanced radar and electronic-warfare (EW) systems. Spanning signal-creation software, signal generators, measurement applications and signal analyzers, the additions enable test solutions that provide greater flexibility and cost-effectiveness than typical single-purpose EW threat simulators.
09/15/2011 | 484
New LTE analysis tools help field engineers and technicians install, commission, and maintain LTE networks.
09/12/2011 | 549
Yokogawa Electric Corporation announces release of the YTMX580 multi-input temperature transmitter to the market. The YTMX580 is based on the ISA100.11a industrial automation wireless communication standard and features an industry-leading eight analog input channels.
09/07/2011 | 516
Agilent Technologies Inc. (NYSE: A) introduced the newest member of its popular ENA Series of network analyzers, the E5072A vector network analyzer. Available as either a two-port, 30-kHz to 4.5-GHz or 8.5-GHz instrument, the E5072A offers improved performance over current RF network analyzers, enhanced functionality, a configurable test set, and a wide output power level for full characterization of devices.
09/02/2011 | 551
Digital per-pin parametric measurement and high-density source measure unit modules ideal for semiconductor. The NI PXIe-6556 200 MHz high-speed digital I/O with PPMU, the NI PXIe-4140 and NI PXIe-4141 four-channel SMUs reduce the cost of capital equipment, decrease test times and increase mixed-signal flexibility for a variety of devices under test.
08/30/2011 | 548
World's first mixed domain oscilloscope combines scope and spectrum analyzer functionality in a single instrument – providing time correlated analog, digital and RF signals.
08/18/2011 | 555
With R&S BCDRIVE, broadcast transmitter operators can now also measure network coverage with drive tests. This solution even enables them to determine network coverage in parallel for multiple broadcasting channels, which significantly reduces measurement times.
08/15/2011 | 494
National Instruments introduced a 14 GHz version of its NI PXIe-5665 high-performance RF vector signal analyzer (VSA), which delivers best-in-class dynamic range and accuracy in a cost-effective PXI form factor. The new VSA features industry-leading phase noise and dynamic range, regardless of form factor, including traditional rack-and-stack instruments.
08/12/2011 | 466
J1512A Passive Probe for BERTWave Series allows engineers to more efficiently verify designs of high-speed digital communications equipment and devices.
08/08/2011 | 545
Products expand the NI RIO Advanced Control and Monitoring Platform with higher-performance and smaller form factor targets.
08/04/2011 | 497
Combination of Optametra and Tektronix creates best-in-class analysis and performance to address emerging coherent optical standards.
08/01/2011 | 624
DPO/DSA70000D Series provides 100 GS/s sampling rate on 2 channels supporting today's fastest signals for optical modulation analysis and SerDes validation.
07/28/2011 | 581
Agilent Technologies Inc. (NYSE: A) announced the addition of two new application-specific modules to the N6700 Modular Power System (MPS) family, the N6783A-MFG mobile communications DC power module and the N6783A-BAT battery charge/discharge module.
07/25/2011 | 518
Keithley Instruments, Inc., a world leader in advanced electrical test instruments and systems, will broadcast a free, web-based seminar titled "Tips and Techniques for Designing Cost-Effective, Efficient Switch Systems" on Tuesday, July 26, 2011.
07/21/2011 | 564
Agilent Technologies Inc. (NYSE: A) introduced five new PNA microwave vector network analyzer models, up to 67 GHz. The new PNA Series is based on Agilent's PNA-X architecture and is used to test a wide variety of passive and active devices such as filters, duplexers, amplifiers and frequency converters.
07/18/2011 | 603
Latest version features include flexible load behavior for large data sets, DataPlugin Wizard for Microsoft Excel and fundamental enhancements to DIAdem REPORT.
07/14/2011 | 1027
The R&S®ZVH-K42 vector network analysis application and R&S®ZVH-K45 vector voltmeter measurement application add vector network analysis measurement capabilities and a vector voltmeter to the R&S®ZVH4 / R&S®ZVH8 handheld cable and antenna analyzers.
07/11/2011 | 569
Tektronix, Inc., a leading supplier of test, measurement, and monitoring products and solutions, announced the acquisition of Veridae Systems, Inc. Acquired company is known for delivering three leading products for ASIC/FPGA prototyping debug, ASIC post silicon validation and FPGA-based system product validation into leading semiconductor and system product companies.
07/07/2011 | 615
Agilent Technologies Inc. (NYSE: A) announced the Agilent 8990B, a peak power analyzer that offers faster measurement speed and greater measurement accuracy in peak power-pulse analysis for the aerospace, defense and wireless markets.
07/01/2011 | 673
The all new Fluke P3 Series thermal imagers provides high-performance for any budget. Based on the award-winning Fluke Ti32 & TiR32, the Fluke Ti27, TiR27, Ti29 & TiR29 deliver proven, practical performance for a wide range of diagnostic applications and designed to work in even the harshest environments providing superior image quality with a one-handed, easy-to-use interfaces.
06/28/2011 | 569
Keithley Instruments invites to join for a webcast seminar and discuss the different measurement techniques that can be used to characterize solar cells and other photovoltaic devices. The seminar will run at Thursday, June 30, 2011.
06/23/2011 | 536
Anritsu launch MU181500B Jitter Modulation Sources and MP1825B 4 Tap Emphasis. Two new product releases upgrades allows the MP1800A to support jitter tolerance testing and emphasis signal generation for quality inspection of parts and circuit boards supporting 28-Gbit/s interconnects.
06/20/2011 | 906
The new R&S®FSH-K44E measurement application makes R&S®FSH4/R&S®FSH8 handheld spectrum analyzers ready for 3GPP WCDMA BTS/Node B code domain power measurements.
06/15/2011 | 700
National Instruments new group of adapter modules includes four general-purpose digitizers, a module for high-speed digital I/O and the industry's fastest 16-bit analog-to-digital converter (ADC) from Analog Devices, Inc. (ADI), which is optimized for modulated communications.
06/13/2011 | 507
Digital modulation measurement capabilities of S412E now include both Fixed and Mobile WiMAX to address LMR system backhaul applications.
06/09/2011 | 580
Rohde & Schwarz has released a new firmware version for ZVA series network analyzers. Version 2.80 adds new measurement features empowering ZVA including support for option R&S ZVAX-B203, Low-Noise Preamplifier.
06/08/2011 | 523
productronica, the leading trade fair for innovative electronics production is fully in line with the trend for electromobility, which has been pushed once more by the recently published recommendations of the German National Platform for Electromobility. Together with the Productronics association within the German Engineering Federation (VDMA) productronica 2011 dedicates a special show to the highlight-topic "battery production and power electronics". This way, German and international companies active in the field of electronics production and machinery find an ideal platform to present and update themselves in two key sectors of electromobility. Productronica takes place November 15 – 18, 2011 on the premises of the New Messe Munich trade fair.
06/02/2011 | 567
The new TL175 TwistGuard™ Test Leads are the only test leads in the world with a manually adjustable test tip guard for use in different measurement environments. The new TL175 Test Leads are also Fluke's first leads with WearGuard™ insulation providing a user with a visual warning that the test leads should be replaced.
05/30/2011 | 675
Rohde & Schwarz announce two new options for the R&S®DVMS compact DTV monitoring system enabling monitoring and analysis of DVB-T2 signals.
05/27/2011 | 677
The new instrument combines an industry-leading state capture speed of 4 Gb/s on 68 channels and 2.5 Gb/s on 136 channels with the ability to reliably capture data on the industry's smallest eye openings, as small as 100 ps by 100 mV.
05/24/2011 | 626
NI announced the new NI cRIO-9075 and cRIO-9076 integrated systems, which lower the cost of the CompactRIO platform for embedded control and monitoring applications and deliver an ideal solution for high-volume deployments and OEM applications.
05/19/2011 | 585
New feature-packed TDS1000C-EDU Digital Oscilloscope offers an affordable way for schools, universities to give students hands-on training.
05/16/2011 | 540
Agilent Technologies Inc. announced shipment of the latest release of its device modeling software platform, Integrated Circuit Characterization and Analysis Program. IC-CAP 2011.04 provides significant improvements in the modeling flow of semiconductor devices by enabling the IC-CAP Wafer Professional automated measurement solution to link with IC-CAP's CMOS model extraction packages.
05/12/2011 | 563
Tektronix announced two new versions of its performance oscilloscope families ranging from 500 MHz to 8 GHz designed to help embedded system design engineers troubleshoot their designs faster than ever before.
05/10/2011 | 842
Agilent Technologies Inc. (NYSE: A) announced shipment of the latest release of its flagship RF and microwave design and simulation platform, Advanced Design System 2011. As the industry's most comprehensive multi-technology design platform, ADS 2011 represents a significant breakthrough in electronic design automation.
05/04/2011 | 734
Fluke Corporation introduced the Fluke 2AC VoltAlert™ AC non-contact voltage tester, the newest addition to the Fluke VoltAlert family. It includes new always-on circuitry and battery test feature for improved reliability and quicker response time.
04/20/2011 | 543
The new Agilent's PXA signal analyzer covers frequencies up to 50 GHz. With external mixing this performance can be extended up to 325 GHz and beyond which allows customers to develop technology for advanced radio astronomy research and new imaging techniques used in the medical and air travel industries.
04/14/2011 | 1042
The new Agilent N9038A MXE EMI receiver is designed for laboratories that perform compliance testing of electrical and electronic products. The MXE enhances electromagnetic interference (EMI) measurement accuracy and repeatability with a displayed average noise level (DANL) of -163 dBm at 1 GHz.
04/12/2011 | 616
Rohde & Schwarz adds new functions to its R&S BBA100 broadband amplifier family to create a one-box solution. The R&S BBA100 is now offers RF output switches and an RF sample switch in addition to an RF input switch. It is also possible to integrate up to two additional third-party amplifiers.
04/08/2011 | 577
Agilent's N9344C and N9343C handheld spectrum analyzers provide fast and accurate measurement from 1 MHz to 20 GHz and 13.6 GHz, respectively. The new analyzers make field testing easier by providing the performance of a benchtop instrument in a handheld device, along with a range of functionality for ensuring field-ready operation and automating routine tasks.
04/06/2011 | 563
Two new high-performance microwave modules are designed to meet the demanding signal integrity and performance requirements of RF test equipment, ideal for transmitter/receiver systems. Modules are available "Off-the-shelf" or tailored to customer specifications.
03/29/2011 | 532
Agilent Technologies announced a new release of its 3-D electromagnetic modeling and simulation platform Electromagnetic Professional 2011.02 for creating 3-D models and analyzing the electrical performance of packages, connectors, antennas, and other RF components. EMPro 2011.02 delivers new meshing technologies for both its time- and frequency domain electromagnetic solvers.
03/24/2011 | 630
New 80C14 module for Tektronix DSA8200 Digital Serial Analyzer adds to the industry's most comprehensive test support for high-speed optical networking.
03/21/2011 | 611
National Instruments announced two new products that extend the communication and measurement capabilities of the NI wireless sensor network (WSN) platform.
03/18/2011 | 587
During the conference on power electronics, Tektronix introduced two new models of passive voltage probes of TPP series, enabling the development of more energy efficient power supplies and power semiconductors designs.
03/15/2011 | 573
Yokogawa Meters & Instruments Corporation released the AQ1200B and AQ1200C multi field testers. These two new models in the AQ1200 OTDR series are designed for use in the maintenance of fiber-optic telecommunications networks.
03/10/2011 | 579
Agilent Technologies Inc. extended its leadership in LTE test with the introduction of dedicated LTE-Advanced signal generation and signal analysis solutions. A number of new technologies are being introduced into LTE-Advanced to enable peak data rates of up to 1 Gbps in the downlink and 500 Mbps in the uplink.
03/04/2011 | 575
New instrument delivers the bandwidth, speed and accuracy to simulate real-world radar, satellite and electronic warfare test scenarios. With up to 14 bits of resolution, the M8190A makes it easy for designers to distinguish between signals and distortion in their test scenarios and stress their devices more rigorously.
03/01/2011 | 556
The new 3.6 GHz RF vector signal analyzer NI PXIe-5665 features industry-leading phase noise, average noise level, amplitude accuracy and dynamic range.
02/25/2011 | 763
Agilent Technologies Inc. announced new functional test features for its E6621A PXT wireless communications test set. Used in conjunction with Agilent's popular E5515C 8960 wireless communications test set, the PXT now supports handover between different radio access technologies (RAT).
02/24/2011 | 655
Compare AKTAKOM and FLUKE clamp meters by function and price...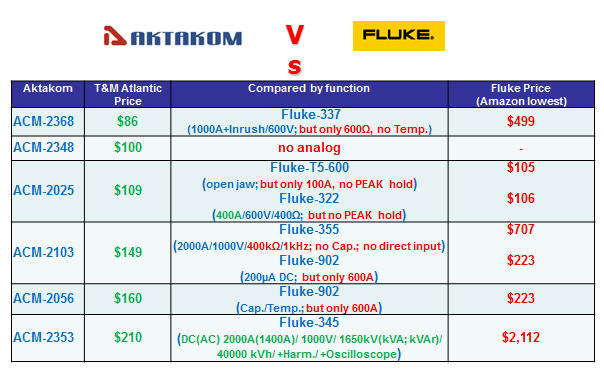 02/24/2011 | 657
Compare AKTAKOM and FLUKE digital multimeters by function and price...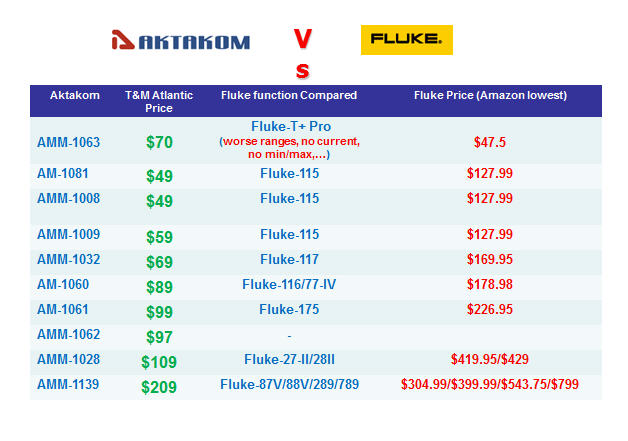 02/23/2011 | 577
New option for AWG7000C delivers industry's only commercial solution for creating wide modulation bandwidth and improved rise/fall time bandwidth all at a lower price.
02/19/2011 | 623
With the addition of a global navigation satellite system (GNSS) simulator to the field-proven R&S SMBV100A this flexible, multi-purpose vector signal generator can now generate customized scenarios for GPS and Galileo from up to 12 satellites in realtime. Users can quickly and easily define their own scenarios to test GNSS receivers under a variety of conditions.
02/15/2011 | 565
Engineers ?an program HMIs with NI LabVIEW for flexible, simplified application deployment. The NI TPC-2206 and TPC-2212 feature a -20 to 60° C operating temperature range for harsh industrial applications, 4 GB solid state drives for reliable operation in extended vibration environments and Windows Embedded OS for long-term deployment and support.
02/11/2011 | 567
This award follows the announcement of 46 new PXI and AXIe modular products in September 2010 during Autotestcon in Florida, and the acceptance of Agilent onto the board of directors of the PXI Systems Alliance.
02/08/2011 | 1089
Yokogawa Electric Corporation announced the release of the FieldMate™ R2.03 Versatile Device Management Wizard. This is an upgraded version intended for use in plants and other production-related sites. In response to rapid growth in the Chinese market, Chinese language support has been included as a standard feature. Support for the ISA100.11a field wireless communications standard is also provided.
02/03/2011 | 546
MW8219A PIM Master™ Incorporates Unique Distance-to-PIM™ Technology That Allows Field Personnel to Determine if PIM Source is from Antenna or Surrounding Environment. PIM Master has been designed to work with Anritsu's S332E/S362E Site Master™, MS2712E/MS2713E Spectrum Master™, and MT8212E/MT8213E Cell Master™ handheld analyzers.
01/31/2011 | 546
The new PXI Express module NI PXIe-449x features AC/DC coupling for multiple types of physical measurements and makes it possible for engineers to use a single device for all their sound and vibration acquisition needs.
01/27/2011 | 563
The TPP1000 and TPP0500 are high bandwidth, general purpose probes from Tektronix that offer breakthrough specifications previously unrealized in this product class. Designed for use with Tektronix MSO/DPO4000B and MSO/DPO5000 Series oscilloscopes, these probes provide up to 1 GHz of analog bandwidth with less than 3.9 pF of capacitive loading.
01/25/2011 | 624
Rohde & Schwarz has enhanced its R&S® CMW500 multistandard platform and now offers options for testing the handover between LTE and 1xEV-DO networks. All tests are carried out in line with the 3GPP2 enhanced high-rate packet data (eHRPD) specifications.
01/21/2011 | 576
Agilent Technologies Inc. announced the U1270 Series handheld digital multimeters (DMMs), setting new levels of performance in industrial handheld DMMs. This series offers a wide range of measurement capabilities; including feature sets that are found only in higher end industrial handheld DMMs.
01/19/2011 | 586
The new R&S NRP-Z85 and R&S NRP-Z86 are the first wideband sensors to measure power from 50 MHz to 40 GHz without requiring a base unit. Instead of a base unit, the sensors are connected to a PC via a USB interface. These sensors are ideal for a variety of applications in the development and maintenance of microwave and radar systems as well as in the design and production of microwave components.
01/17/2011 | 612
New RSA5000 series offers double the acquisition bandwidth of any signal analyzer in comparable price range and best real-time capabilities. Featuring advanced time, amplitude, and DPX™ trigger functions combined with swept DPX, the RSA5000 Series delivers discovery and capture of intermittent and rapidly changing signals and up to 85 MHz bandwidth.
01/13/2011 | 608
Agilent Technologies Inc. announced it has acquired certain assets of Signametrics, a manufacturer of PXI, VXI, PCI and USB digital multimeters (DMMs), and modular switching products. These test and measurement products are commonly used in manufacturing production and automotive test systems.
01/04/2011 | 643
National Instruments adds two models to industry-leading offering of 20 PXI and PXI Express chassis. Engineers can use the NI PXIe-1078 nine-slot and NI PXIe-1071 four-slot chassis to take advantage of the latest PXI Express modules and controllers with the flexibility of backward compatibility with existing PXI modules
12/29/2010 | 590
T&M Atlantic announces a list of 2011 U.S. trade shows, consumer events and conferences in the field of technology, t&m equipment, engineering and aviation technology.
12/29/2010 | 821
Agilent Technologies Inc. (NYSE: A) introduced eight new measurement applications for its PXA X-Series signal analyzer. The measurement applications cover a range of industry standards in cellular communication, wireless networking, digital video and other general purpose applications
12/25/2010 | 807
New version of software simplifies .NET test and measurement application development. Microsoft Visual Studio developers using Measurement Studio 2010 can create Windows Forms and Web Forms applications in a shorter amount of time with increased productivity tools
12/22/2010 | 583
Hanover-based DVS Digital Video Systems AG has been integrated into the Rohde & Schwarz group of companies. With DVS Digital Video Systems AG, Rohde & Schwarz has integrated a top technology player. DVS produces many products, including digital video systems and storage solutions for the film and TV industry
12/22/2010 | 568
The measurement applications address cellular communications, wireless networking and digital video standards, allowing CXA, a low-cost signal analyzer, to provide a comprehensive list of measurement applications
12/20/2010 | 645
National Instruments announced the release of new version of NI LabWindows/CVI 2010. New version simplifies test system development for Linux, real-time and FPGA-based systems
12/15/2010 | 659
The new 89600B software provides R&D engineers performing signal and modulation analysis with a window into what's happening inside their complex wireless devices. The 89600B VSA software measures more than 70 signal standards and modulation types covering a range of applications (e.g., mobile communications, wireless connectivity, military communications, satellite communications, and more)
12/13/2010 | 598
Keithley Instruments invites to take part in free technical online seminar "Fundamentals of BTI Bias Temperature Instability and State of the Art Measurement Methods" on Thursday, December 16, 2010.
12/09/2010 | 604
The PXT test set is designed for RF characterization, protocol verification and end-to-end application testing of LTE user equipment (UE). This new instrument transforms LTE device verification by minimizing design uncertainty and reducing lab setup time, while maximizing performance and scalability.
12/07/2010 | 835
New MSO/DPO5000 Series, Enhancements to MSO/DPO4000 Series and new high-bandwidth passive probes give embedded designers more performance and analysis.
12/03/2010 | 592
Agilent Technologies introduced new option for its PSG family of RF and microwave signal generators.
The new option reduces close-in phase noise by 5 dB and pedestal phase noise by 12 dB. Option UNY is ideal for R&D and test engineers working on defense electronics and wireless communication systems.
11/29/2010 | 606
Keithley Instruments, Inc. is hosting a forum designed to offer customers and users of Keithley instrumentation a central location for finding product support and exchanging applications insights via the web.
11/26/2010 | 565
Agilent Technologies Inc. expanded its digital communications analyzer (DCA) portfolio with the introduction of the 86100D DCA-X wide-bandwidth oscilloscope. The DCA-X provides engineers with the tools needed to characterize their high-speed digital designs easily and accurately.
11/23/2010 | 867
Agilent Technologies Inc. announced it has begun unveiling the highly anticipated next release of its Advanced Design System (ADS) flagship RF design software. ADS 2011 delivers breakthrough capabilities for multi-technology design inherent in today's RF System-in-Package (SiP) components.
11/19/2010 | 818
The availability of this option in UTAdvanced Controller Series, combined with support of the PROFIBUS-DP and CC-Link industrial communication protocols, gives customers a greater range of choices in configuring their systems.
11/17/2010 | 781
Rohde & Schwarz has announced the availability of its new R&S ZVA-Z500 frequency converters that enable network analyzers to cover the 325 GHz to 500 GHz range. The R&S ZVA-Z500 models feature a superior dynamic range and outstanding output power over the entire frequency band, and can be set up completely via the network analyzer interface.
11/15/2010 | 629
Keithley Instruments invites to participate in free technical online seminar "Electrical Resistivity Measurements of Bulk Materials: Conductors, Insulators, and Semiconductors".
The webinar provides details on the various resistivity methods and techniques used to achieve optimal results. Participants will learn the fundamentals of making resistivity measurements on bulk materials. The methods vary depending on if the material is a conductor, an insulator, or a semiconductor. Live Broadcast at 15:00 Central European Time on Thursday, November 18, 2010.
11/10/2010 | 830
The new real-time oscilloscope series DPO/DSA/MSO70000C deliver 100 GS/s sampling rate performance; enabling lower noise along with increased data points on 5x oversampled 20 GHz acquisitions. Faster compute platform and a more stable timebase are ideal for radar applications.
11/09/2010 | 647
Spectracom, a company of the Orolia Group, announced its new portable field sync tester/analyzer Pendulum STA-61. Where traditional synchronization testers on the market are dedicated to do tests in one type of network or the other, the new Pendulum STA-61 can verify synchronization quality in traditional SDH/SONET core networks as well as IP-based backhaul and mobile networks. New product will be available in March 2011.
11/06/2010 | 681
The Fluke engineering team has developed a new IR Window specifically for indoor applications built on the tried and trusted technology of the existing outdoor CLKT line.
11/04/2010 | 569
The new R&S SMZ frequency multiplier family provides convenient microwave measurement capabilities in the 50 GHz to 110 GHz range. The frequency multipliers in the R&S SMZ family are the first on the market to offer users the choice of either mechanically or electronically controlled built-in attenuator options.
11/03/2010 | 737
Fluke is introducing the return of the world's most advanced Power Quality Clamp Meter. The Fluke 345 has been re-designed due to the discontinuation of some major components. The instrument performance specification of the replacement product remains the same as the previous version. For the user the product is functionally identical, the item number stays the same as do the items shipped with the product.
11/01/2010 | 573
Keithley Instruments, Inc., a world leader in advanced electrical test instruments and systems, extends its congratulations to Drs. Andre Geim and Konstantin Novoselov, scientists at the University of Manchester in England who were recently awarded the 2010 Nobel Prize in Physics for their research on graphene, a single-atom-thick form of carbon with outstanding physical, electrical, and chemical properties.
10/29/2010 | 629
Agilent Technologies Inc. introduced a Tektronix-to-Agilent probe adapter. The N2744A T2A adapter enables engineers to connect Tektronix TekProbe-BNC Level 2 probes to Agilent's Infiniium and InfiniiVision oscilloscopes.
10/26/2010 | 624
The TDS2000C series of oscilloscopes offers performance gains, more models, more automated measurements, adds datalogging and limit test features.
10/22/2010 | 577
Chengdu fab puts manufacturing close to growing customer base in China. The fab is a fully equipped 200mm manufacturing facility and was purchased from Cension Semiconductor Manufacturing Company.
10/20/2010 | 599
The world's leading companies in the area of embedded hardware and software will meet at electronica 2010, the number 1 international trade fair for components, systems and applications in the electrical and electronics industry, from November 9 to 12, 2010. electronica 2010 will feature the latest generation of microprocessors, boards, development platforms and test software.
10/19/2010 | 644
National Instruments announced that it will be adding Long Term Evolution (LTE) test capabilities to its RF test product portfolio with the forthcoming NI LTE Measurement Suite, which operates with PXI RF signal generators and analyzers. Designed for testing 3GPP LTE wireless components, subsystem components and mobile stations, the software-defined test system will provide a fast, flexible and accurate solution for engineers developing automated validation and production test systems for LTE products.
10/15/2010 | 590
A new high-end network analyzer from Rohde & Schwarz strengthens the company's position in the network analysis segment of the test and measurement market. The R&S ZVA110 covers the entire frequency range from 10 MHz to 110 GHz.
10/13/2010 | 638
In his message to customers Joseph P Keithley (President and Chief Executive Officer, Keithley Instruments, Inc.) informed about sales agreement whereby Tektronix will purchase Keithley. The acquisition was announced on September 29, 2010, and is expected to be completed by the end of 2010. The message is published at www.keithley.com/message
10/11/2010 | 712
Yokogawa Electric Corporation announced the launch of the FVX110 Fieldbus Segment Indicator on September 30. This new product conforms to the FOUNDATION™ fieldbus industrial digital communications standard.
10/05/2010 | 660
Danaher Corporation and Keithley Instruments, Inc. announced that they have entered into a definitive merger agreement pursuant to which Danaher will acquire all of the outstanding Common Shares and Class B Common Shares of Keithley at a purchase price of $21.60 per share in cash for an enterprise value of approximately $300 million net of cash to be assumed. The acquisition has been unanimously approved by the Keithley Board of Directors.
09/27/2010 | 631
Tektronix, Inc., announced the AWG7000C and AWG5000C Series of Arbitrary Waveform Generators (AWGs) that bring performance and usability enhancements to the industry's most capable family of signal generation solutions. The new "C" series of Tektronix AWG instruments provide a 45 percent reduction in waveform creation times compared to prior AWG instruments, essential for performance-intensive applications where large number of waveforms are required to effectively characterize high-speed serial and wideband RF/Microwave designs.
09/22/2010 | 627
Rohde & Schwarz presents its T&M solutions at electronica 2010 under the motto "Frequency meets Time": Its new oscilloscopes have advanced the company into the time domain. The R&S RTO and R&S RTM families are a highlight at the Rohde & Schwarz booth 307 in hall A1. One of the other top products on exhibit is the R&S FSVR, the world's first real-time spectrum analyzer up to 30 GHz. But that's not all: Rohde & Schwarz showcases new innovations in the microwave and millimeter-wave T&M portfolio with signal generation up to 110 GHz.
09/14/2010 | 590
Agilent Technologies expanded its test and measurement portfolio into the modular domain with the introduction of 46 new PXI and AXIe products. The new products bring Agilent's measurement expertise - including advanced measurement software and high-performance hardware - to the modular form factor. These products also will enable new capabilities that were not previously available across analog, digital, RF, microwave and lightwave test technologies.
09/10/2010 | 655
Tektronix, the market leader in broadcast video test, monitoring and analysis solutions, announced that it has obtained Type Approval Certificates in Russia for several of its compressed and uncompressed video test solutions.
09/07/2010 | 659
Agilent Technologies Inc. (NYSE: A) today introduced new, thematic skins for the U1240 and U1250 Series handheld digital multimeters (DMMs). The new skins allow engineers and technicians to personalize their DMMs, which are used to perform everyday measurements and troubleshooting tasks.
08/24/2010 | 673
Anritsu's ME7873L RF Conformance Test System and ME7832L Protocol Conformance Test System for testing LTE mobile terminals have already received GCF approval and now have received PTCRB approval for 30 (ME7873L) and 20 (ME7832L) test cases supporting the wireless bands used in North America (Band 4, 13, 17, etc.)
08/20/2010 | 796
Researchers at Ohio State University have demonstrated the first plastic computer memory device that utilizes the spin of electrons to read and write data. An alternative to traditional microelectronics, so-called "spintronics" could store more data in less space, process data faster, and consume less power.
08/17/2010 | 836
Agilent Technologies Inc. (NYSE: A) introduced the N9342C handheld spectrum analyzer (HSA), a powerful and straightforward instrument designed for RF technicians and engineers performing installation, maintenance and surveillance of RF systems in the field. The N9342C HSA makes field testing easier by providing faster, more precise measurements, ease of use, and a range of user customization and ergonomic features.
08/13/2010 | 679
Texas Instruments announced the purchase of two wafer fabs and manufacturing equipment located in Aizu-Wakamatsu, Japan. The purchase includes a 200-mm wafer fab currently in operation that is capable of expanding TI's analog revenue by more than $1 billion annually, as well as a second non-operating wafer fab for either 200-mm or 300-mm production.
08/11/2010 | 708
Agilent Technologies Inc. (NYSE: A) announced that the Infiniium 90000 X-Series oscilloscope has been selected as the winner of the prestigious Electron d'Or (gold electron) award in the "Instrumentation" category. The 90000 X-Series was selected unanimously by a jury of experts from industry, the press and academic research.
08/06/2010 | 733
National Instruments announced new PXI and PCI interfaces that expand the NI-XNET platform to include support for the Local Interconnect Network (LIN) communication bus. New interfaces are ideal hardware-in-the-loop simulation, rapid control prototyping, bus monitoring and automation control.
08/04/2010 | 673
National Instruments announced the addition of Windows OS support and Camera Link connectivity for NI Embedded Vision Systems. Two of the new options featuring Windows support, the NI EVS-1463 and EVS-1464 systems, offer 80 GB storage and are suitable for image and data logging. They are based on the Windows 7 OS, making it possible to develop directly on the deployment system while eliminating the need for a separate PC for the operator interface.
08/03/2010 | 717
Researchers have shown off a transistor made from just seven atoms that could be used to create smaller, more powerful computers.
08/02/2010 | 774
Fluke has introduced a new entry level thermal imager for quick, easy, and accurate problem identification and troubleshooting designed specifically for the building inspection professional. Now Fluke quality, durability, and performance are available in a thermal imager engineered for the value-conscious building professional.
07/30/2010 | 765
Pendulum Instruments AB has merged with Spectracom. Trading as Spectracom, the legal name of the office in Bromma has from June 11th been changed to Orolia Global Services AB.
07/29/2010 | 916
Brother (the printer-labeler-sewing machine company) has developed a kinetic energy–based electrical power generator that fits in the familiar format of a AA or AAA battery, and is targeting it for low-power devices like remotes that require about 100mW or less of power.
News 1 - 453 of 453
First | Prev. |
1
| Next | Last
| Paged